WhisperFlow Benchtop Laminar Flow Hoods
Product Announcement from Terra Universal, Inc.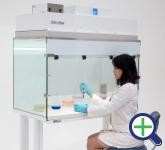 Portable, economical system converts any benchtop surface into a laminar flow station (standard widths to 72")
Provides an average air flow speed of 90 feet/minutes (measured with HEPA filter)
Quiet operation: 50 dBA measured 30" from filter face
Select vertical or horizontal flow configuration to meet your requirements
Available with a variety of hood materials, including static-dissipative PVC
Work surfaces available to meet any cleanliness requirement
This versatile laminar flow hood gives you a particle-free work environment on any available work surface.
FFU: Quiet, Reliable Operation
It consists of two modules: a filter/fan unit (FFU), which houses a particle filter, and a hood. The FFU houses a HEPA filter, rated 99.99% efficient with 0.3 micron particles. Its internal baffle system ensures uniform face velocity, and its 50 dBA noise rating is the best in the industry. The low vibration level ensures minimal disruption of high-precision assembly or test procedures performed inside the hood. ULPA FFUs, rated 99.99% efficient @ 0.12µm particles, along with ionization units are also available.
Hood Provides a Versatile Enclosure Configured to Your Requirements
Terra manufactures hoods out of five materials to meet a broad range of chemical and cleanliness requirements.
Lightweight acrylic affords full visibility of work in progress. Static-Dissipative PVC eliminates static charges and the particles they attract, making it ideal for the most critical contamination requirements. Polypropylene offers superb chemical compatibility, and 304 stainless steel provides outstanding durability and resistance to most cleaning solvents. All hood materials are housed in a stainless steel frame for strength and easy cleaning. All hoods include a hinged front access shield that restricts the air exit and enhances laminar flow.
Hoods
Stainless steel frame provides durable support for hood material. Each model includes a hinged access shield that increases air speed by restricting the air exhaust. See chart below for nominal hood widths and depths. Vertical flow models are 30.25"H; horizontal flow models are 24"H.
You have successfully added from to your part list.
---