Product Announcement from Texas Instruments Microcontrollers (MCU)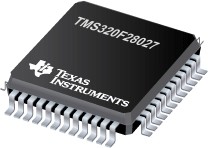 Want to give it a try? Evaluate before you buy with the free, interactive InstaSPIN-FOC online simulation tool.
Get started developing with the InstaSPIN-FOC enabled Piccolo F2802x MCUs by purchasing the 350V/10A TMDSHVMTRINSPIN kit which has been updated to include the InstaSPIN-FOC enabled TMDSCNCD28027F controlCARD along with the already included InstaSPIN-FOC and InstaSPIN-MOTION enabled TMDSCNCD28069MISO controlCARD.
The F28027F controlCARD can also be purchased separately and when paired with an external JTAG emulator can be used with either of the low voltage DRV8312 (50V/3.5A ) or DRV8301 (60V/40A ) inverters which are sold as the following kits: DRV8312-69M-KIT, DRV8312-C2-KIT, DRV8301-HC-C2-KIT, DRV8301-69M-KIT.
Full software solution support is provided through MotorWare™, which includes a full set of object oriented API drivers and modules which are used to build multiple projects that show the flexibility and functionality of the InstaSPIN solutions. The latest version also includes new features such as:
Full F2802x support
Enhanced Motor ID for low inductance motors
Compensation for sampling, estimated angle, and modulation at high velocity
Floating Point support for F2806x
ADC and OSC compensation
Trip Zone protection enhancements
New modules for CPU and Control Frequency Execution Monitoring
You have successfully added from to your part list.
---