Product Announcement from Thermal Circuits, Inc.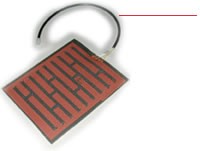 For the car and truck aftermarket industry, Thermal Circuits can make available a special "cold weather start" etched foil element battery heater - 120 Volts, 6' corded, and insulated in rugged, heavy-duty silicone rubber.
Inside the car, Thermal Circuits has engineered non-fatiguing Kapton® insulated etched foil heating elements for professional assembly within car and truck seats, and seat backs.
Thermal Circuits Inc. has engineered and produced in volume etched foil element heaters and heater assemblies to improve automobile performance, safety and passenger comfort.
Etched foil heaters in side view mirrors melt ice and snow and prevent condensation. Side view mirror heaters are applied by a Tier One mirror housing OEM to the back of the driver and passenger side view mirrors to provide all-season visibility safety.
A Thermal Circuits etched foil heating system installed under the hood in the crankcase ventilation system drives out condensation and conquers freezing winter temperatures to protect against PCV valve clogging, poor engine performance, and stalling. This is the automotive industry's first etched foil heating system at work to assist in the reduction of air pollution.
Thermal Circuits is an application solver and services a wide variety of OEM heater applications for diverse industries worldwide. Throughout this website we refer to examples of opportunity solving that have met these objectives. The end products featured on these pages represent successful product applications in the diverse OEM industries. We offer this same commitment to you and your company.
Flexible Heaters - Custom Materials
Flexible heaters from Thermal Circuits offer many benefits including custom watt densities, thin profiles, ease of placement and low thermal mass. They are easy to apply and provide a higher heat output.
View High-Temperature Mica Heaters | Mylar® Film Heaters | Infrared Panel Emitters | Vinyl Heaters | NeoNylon® Heaters | Teflon® Heaters | EPDM Rubber Heaters | Ceramic Heaters | Polyester Heaters | Nomex® Heaters | Fiberglass Cloth Heaters
Kapton® and Other Polyimide Heaters
These heaters offer many design features such as superior dielectric strength in very thin cross sections. Heaters can be installed with pressure sensitive adhesives (PSA), or factory bonded directly to heat sinks.
View Custom Kapton® Heaters | Polyimide Heaters | Heaters with Sensors | Heater Assemblies
Silicone and Other Rubber Heaters
Fabricated with two layers of fiberglass-reinforced silicone. These heaters have the ability to provide heat exactly where it is required, are rugged, and are moisture and chemically resistant. They are easily bonded to the parts to be heated.
View Silicone Rubber Heaters | EPDM Rubber Heaters
Industry Market Applications
View Personal Care and Kitchen Appliances | Cars, Automobiles, Trucks and SUVs | Avionics, Aerospace and Military | Electronics Industry | Food Services and Restaurants | Medical Devices and Sciences | Reprographics and Office Equipment | Semiconductors and Wafer Processing | Transportation
You have successfully added from to your part list.
---