KVE / KHE Series Electric Heater & Exchangers
Product Announcement from Thermal Fluid Systems, Inc.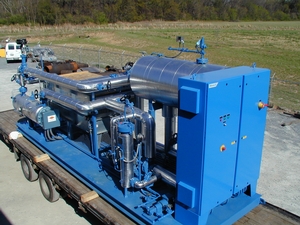 Electric thermal fluid ("hot oil") heating systems provide high efficiency and low pressure operation for temperatures up to 750°F (399°C). Electric heaters can be used for small capacity applications and where a fuel supply is not available ranging in size from 50 kW to 5+ MW.
TFS engineers, designs and fabricates specialized heating and cooling skids that incorporate stringent controls with your current production. Our application engineers can assist with the complete integration of accurate temperature and flow controls with your production requirements to existing DCS or DCIS system.
Electric thermal fluid heating and Skid-mounted exchanger control systems provide high efficiency, waste heat stream recovery to make your operation more cost effective. Standard and custom designs come in both horizontal and vertical configuration when space is at a premium. Our design can be skid-mounted and customized to meet you exact requirements.
---