Product Announcement from TECA (ThermoElectric Cooling America) Corporation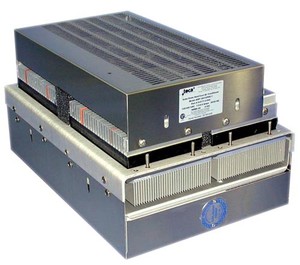 TECA Corporation's "X" or "outdoor/military" thermoelectric air conditioners (Peltier coolers) are suitable for cooling in harsh environments including Mil-Std 810 and NEMA-4/4X enclosures. The products on this page are all through-mounted. The internal side or "cold side" of the air conditioner (Peltier cooler) will intrude into your enclosure, leaving the external side or "hot side" outside of your enclosure. Mounting gasket and hardware are always included.
TECA's thermoelectric air conditioners (Peltier air conditioners) for military (Mil-Std 810) and NEMA-4/4X enclosures (all "X" models) are built with a mil-spec hot side fan and can be exposed to rain, wash-down, salt spray, blowing sand and shock per Mil-Std 810 (Shock & Corrosion) and the NEMA-4/4X environment rating. Our Peltier air conditioners for military and NEMA-4/4X enclosures are often used for cooling in high ambients and harsh industrial, military and outdoor environments near oceans and deserts. Examples of such solid-state cooling applications include COTS, shipboard, military communications, mobile military units, transit case cooling, manufacturing facilities, paper mills, and more.
Please contact TECA for "XM" products, configurations of the above which are also full shock and vibration (Mil-Std 810 Shock, Vibration and Corrosion).
Thermoelectric cooling (Peltier cooling) capacity ranges from the AHP-300X model which offers 210 BTU/hr to the AHP-1800X model which offers 1100 BTU/hr.
The solid-state construction is the perfect low-maintenance solution for hard-to-access areas. There are no filters to change and no moving parts except for the fans. Our Peltier coolers use robust thermoelectric modules (Peltier modules) and boast a long service life.
TECA Corporation in Chicago manufactures a wide range of solid state thermoelectric cooling products, including air-conditioners, cold plates and liquid chillers. TECA was established in 1984 as a spin-off from Borg-Warner Corporation. We are celebrating over twenty five years in TE technology.
Quality Mission Statements...
The fundamental purpose of TECA is to provide world-class products of superior quality. It is our goal to continually monitor and improve our operations to meet and exceed our customer needs.
Guiding Values and Principles...
Quality is our top priority. Suppliers are a direct link and partner in the total quality team. Their contribution will be measured and controlled to ensure on-time deliveries and first time acceptance.
We are "TEAM TECA". We recognize that our success depends upon the involvement, commitment, and performance of each team member. We will continue to focus our efforts on the people we serve and the products we produce in order to ensure quality without sacrificing health, safety, and the environment in which we live.
You have successfully added from to your part list.
---