Dry Block Heaters
Product Announcement from Thermo Fisher Scientific - Thermo Scientific Baths, Circulators & Chillers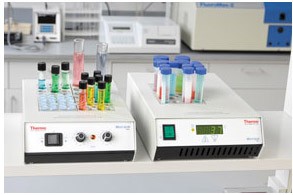 Thermo Scientific* analog and digital dry baths offer precise temperature control resolution and a much smaller footprint than a general purpose incubator and can be used at temperatures up to 130°C.
These analog and digital dry block heaters feature a built-in temperature-sensing probe for improved temperature accuracy and control. Compact design saves valuable bench space. The anodized aluminum modular blocks accommodate test tubes, square cuvettes, microcentrifuge tubes, 96-well plates, PCR plates and conical bottom centrifuge tubes. Dry block heaters hold 1, 2, 3, 4, and 6 interchangeable modular blocks to accommodate a variety of vessels.
Details
Number of block configurations meet the needs of virtually any application
Compact design is ideal for tight space locations
Digital units utilize a PID microprocessor controller with digital temperature set and easy-to-read LED display for accurate and reproducible temperature control
Analog units feature bimetallic dual thermostat control
Powder-coated steel body construction ensures durability
Chemically resistant design meets the needs of the laboratory environment
Analog Units
Ideal for fixed temperature applications
Temperature control at 37°C: ±3.5°C, with uniformity of ±0.5°C
Dual temperature control for precise control over two ranges: low range slightly above ambient to 60°C, high range 50° to 130°C
Read thermometer and adjust knob controller to desired setpoint
Digital Units
Temperature control at 37°C: ±0.5°C, with uniformity of ±0.4°C
Setpoint easily adjusted via up and down arrow keys on front of unit
Modular block mounts on a single temperature probe in Dry Block Heater bottom, for optimum temperature accuracy and control
You have successfully added from to your part list.
---