Continuous Emissions Monitoring Systems
Product Announcement from Thermo Scientific Environmental and Process Monitoring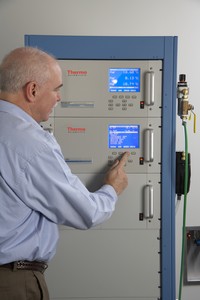 With over 40 years in the business, we are proud to provide regulatory agencies and the industry, with solutions for challenging environmental monitoring issues. When a solution for mercury monitoring was needed we were there. When the challenges of the future arise, we'll be there too.

The Complete Solution
Equipped with the engineering know how, technical capabilities and the application experience to deliver anoptimized and custom configured CEMS, we offer and deliver both hardware and complete solutions including integration, installation support, commissioning, certification, and training services.
We manufacture a wide range of gas analyzers, probes, opacity monitors, and other critical components required for unattended, long term reliability. Our integrated systems come standard with the essential connectivity options necessary for seamless communication between Thermo Scientific CEMS and plant data acquisition or distributed control systems.
In addition to supplying compliance, we also offer custom systems tailored to meet specific needs such as process control CEMS. As part of your custom system, we'll provide any additional components you require, whether they are part of our larger Thermo Scientific brand or manufactured by another provider.
For us, servicing our customers is only one part of the process. Service is the building block for our entire process. From project inception to system installation and training we provide a project manager responsible for the coordination and organization of your build. We also provide a team of representatives from engineering, operations, finance, sales, marketing, and service to work with you throughout the entire process.
---