Nitrous Oxide Analyzer, Model 46i
Product Announcement from Thermo Scientific Environmental and Process Monitoring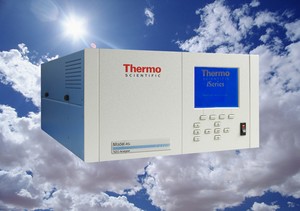 N2O has been identified as a primary greenhouse gas with a greater potential for global warming effects than Carbon Dioxide (CO2). The Model 46i analyzer helps users to comply with global greenhouse gas regulations.
The Model 46i analyzer uses an exact calibration curve to accurately linearize the instrument output over any range up to a concentration of 50 ppm. Available in both dual and auto range modes.
Additionally, the Model 46i analyzer features automatic pressure and temperature correction which provides an increased resistance to shock and vibration while delivering enhanced specificity and sensitivity.
Key Features
Gas filter correlation technology
Linearity through all ranges
Dual and auto range modes
Automatic pressure and temperature correction
Long term zero and span stability
---