iSeries Instrument Platform
Product Announcement from Thermo Scientific Environmental and Process Monitoring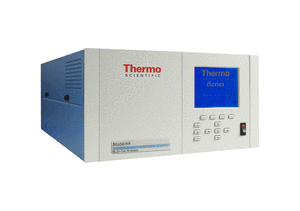 The durable, plant-proven components, advanced electronics, and operator friendly software come together in a flexible, easy-to-use service package that sets the standard for gas and particulate continuous analysis instrumentation.
Expanded I/O functionality and connectivity capabilities make it easy to integrate iSeries Instruments into most plant operations and data management systems.
The iSeries Instrument Platform supports MODBUS and TCP/IP protocols as well as the iPort custom remote Communications software package.
The iSeries Platform delivers built in uptime with easy access to components, simplified on-site serviceability and maximum parts interchangeability.
The software interface is easy to use with fast intuitive navigation and simple, menu-driven programming. All iSeries Instruments are designed with a common look and feel so you can easily navigate through the software menu structure.
Key Features
• Expanded I/O functionality and connectivity capabilities
• Easier component accessibility
• User interface designed for quick, easy operation and programming
• Accessible and interchangeable components
• Common electronics and spare parts
---