personal DataRAM Series
Product Announcement from Thermo Scientific Environmental and Process Monitoring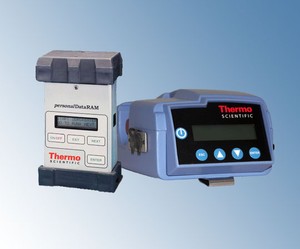 The world's smallest and most versatile direct-reading, personal, aerosol monitors were designed to provide accurate, real-time measurement of airborne particulate concentrations for numerous applications.
Applications Include:
Indoor Air Quality, Walk-through surveys, Time and motion studies, Personal exposure monitoring, Workplace and plant monitoring, Unattended long-term monitoring, Emergency response, Testing air filtration efficiency, Remote alarming, Health effects studies, Mobile monitoring in vehicles and aircraft, Remediation site worker surveillance and more.
pDR Series Features:
Compact, light-weight & portable
Instant detection of dangerous respirator levels
Easily programmable
Easy to read two line display
Real-time measurement of airborne particulate concentrations
personal DataRAM, pDR1500
Active aerosol monitor Plus aerodynamic sizing
Our latest edition... the Thermo Scientific pDR1500 is a fully integrated, active sampling, real-time aerosol monitor/data logger with aerodynamic sizing. The pDR1500 offers powerful, increased capabilities and a flexible, compact design for enhanced portability. Capable of compensating for all typical environmental variables, the pDR1500 is outfitted for relative humidity compensation, true volumetric flow, pressure compensation and legacy pDR nephelometry technology.
personal DataRAM, pDR1000-AN
Passive aerosol monitor Simple zeroing & calibration
The Thermo Scientific pDR1000AN is capable of measuring mass concentrations of dust, smoke, mists and fumes in real-time and sounds an audible alarm whenever the user-defined level is exceeded. Utilizing single beam nephelometry, the pDR1000AN incorporates light-scattering to produce optimal particle response for high correlation with standard gravimetric measurements. With datalogging enabled, the pDR1000AN automatically tags and time stamps the collected data to be stored for subsequent retrieval, printing or computer graphing.
---