Nitus Gamma Backscatter Gauge
Product Announcement from Thermo Scientific - Process Instruments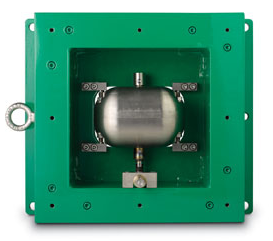 The non-contacting Thermo Scientific Nitus Gamma Backscatter Gauge provides highly precise online measurement of density and level in the largest tanks and pipes to increase production time, plant safety and profitability.
The internationally-compliant Nitus system is based on patented (patent #7469033), non-contacting gamma backscatter technology that responds instantly to significant density and level changes to avoid tank overspills and other upset conditions. It uses a reduced source size yet precisely measures the thickest process materials, including sludge, slurries and paste, to keep the process online and provide a strong return on investment.
The Nitus Gamma Backscatter Gauge measures the density or level of thick, highly viscous process materials in the largest tanks and pipes with unmatched precision. Unlike traditional sensors, the durable gauge uses non-contacting, non-intrusive technology that is unaffected by corrosive, abrasive, high temperature and/or high pressure process materials to ensure minimal maintenance and long instrument life.
The system features groundbreaking technology that is powered by a small source to ensure a safer working enviroment and lower capital costs. In fact, the amount of energy emitted by the source can be reduced by a factor of 200 without sacrificing precision or rapid response.
Both the Nitus source and detector mount to the same side of the vessel or pipe without having to shutdown the process, reducing downtime. Installation costs are also minimized because the non-intrusive system mounts to the outside of the vessel, meaning no thermo well, site holes or other vessel modifications are nececssary.
The system can be setup using a Thermo Scientific 9734 Handheld Terminal, HART Communication module, Foundation Fieldbus (using HART 475) module or TMT Comm via a laptop. A user-friendly menu enables quick configuration to expedite installation and start-up.
The Nitus density and level gauge offers numerous features and benefits:
1. Highly sensitive detector enables system to respond instantly to process changes to avoid overspills and other upset conditions
2. Non-contacting, non-intrusive technology ensures low maintenance and long life
3. High accuracy and repeatability via small gamma source (100 mCi/3.7 GBq or less) improves plant safety and lowers capital costs
4. Unique design offers unmatched reliability, stability and sensitivity
5. Zero drift over a wide temperature range ensures stability of detector for superior measurement accuracy
6. Source and detector install on same side of vessel or pipe without having to shutdown the process
7. The source head is encased in tungsten steel for maximum protection and is contoured to match the vessel radius to ensure no radiation scatters from the shutter to increase plant safety
Mining Applications
Control of flocculant feed and underflow draw in paste tanks
Bottom level control for clarifiers
Solids level control and output control on hydrotreaters
Density control at specific levels on settling tanks
Heavy media separation for control of solids
Measurement of soda ash density on large pipes
Measurement of process material in tailings pipes
Petroleum Applications
Tar sands separators and froth treatment settlers
PVC tanks
Reactor vessels
Auto-clave vessels: high temp and high pressure processes
Alkylation units
Gypsum production
HF Alky for emulsion control
Dissolving tank water level control (Styrene)
Asphalt level control
Atmospheric and vacuum towers
Fractionation column level control
FCCU units
Acid settling tanks
Desalters and separators
The Nitus system is engineered for maximum return on investment and offers several unique advantages:
The Thermo Scientific Model 6000 source head is designed to be flush with the curvature of the vessel or pipe to ensure maximum vessel wall penetration of the gamma energy emitted by the source
The Nitus scintillation detector is the most stable and sensitive of its kind and enables the system to use a smaller source size to achieve rapid response and high measurement precision. In fact, the detector uses 50% less energy than traditional scintillation detectors and is able to maintain zero signal noise. Its circuitry is not affected by temperature and the integrated transmitter design ensures durability in the most rugged environments
Dynamic Process Tracking (DPT) reduces the normal averaging constant by a factor of eight, enabling the Nitus system to respond instantaneously to significant density and level changes
For density measurement, a logarithmic function ratio linearizer is resident in the software to allow for one-point calibration. For level applications, a break point linearizer allows any non-linear vessel wall variations to be offset, ensuring high precision measurement on any shape of vessel
Up to 16 process alarms can be set in addition to the built-in system fault and warning alarms to maximize system uptime. The system's software automatically detects faults and corrects any errors to further ensure reliable, ongoing operations.
Datasheets:
Thermo Scientific Nitus Gamma Backscatter Gauge for Level, Density and Interface Applications in the Mining Industry
Thermo Scientific Nitus Gamma Backscatter Gauge for Level, Density and Interface Applications in the Petroleum Industry
---