SOLA II (Sulfur OnLine Analysis) Instrument
Product Announcement from Thermo Scientific - Process Instruments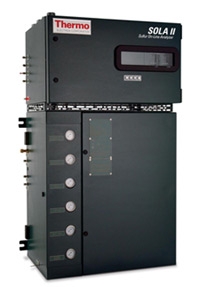 The SOLA II (Sulfur OnLine Analysis) instrument measures total sulfur in liquid hydrocarbon fuel and gaseous process streams. The SOLA II addresses the need for a low maintenance sulfur analyzer that can reliably measure low ppm levels to help customers meet the tightening regulatory requirements limiting sulfur levels in fuels.
The SOLA II analyzer uses the low-maintenance Pulsed UV Fluorescence (PUVF) detector with the proven Pyrolysis system for measuring total sulfur in gasoline, diesel, kerosene, and jet fuel. The PyrolyzerTM performs the conversions for total sulfur measurement without requiring a source of pure oxygen. A field-proven valve injection system includes hardware and software for precise control of sample introduction.
Full scale measurement ranges are from 0 - 5 ppm/wt to 0 - 9000 ppm/wt detection limits as low as 0.25 ppm. Automatic stream switching is also available for dual-stream applications.
Features
•Sample combustion uses air only, no pure oxygen is required
•Longer life and better low detectable limits than non-pulsed UV systems
•Low consumables
•Low maintenance
•Continuous sample injection
•Easy operation
•Meets low sulfur in fuels measurement needs now and in the future
---