Sarasota Gas Density Meters
Product Announcement from Thermo Scientific - Process Instruments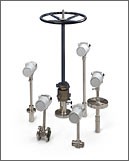 The Thermo Scientific range of Sarasota gas density meters meets the challenges of fiscal/custody transfer gas metering, liquefied gas metering, fuel gas management, and burner control through the continuous, accurate measurement of density or density related variables within the oil and gas, petrochemical, and power industries. The savings available through the use of the meters, the availability of near real time control signals, and the low cost of ownership compared with alternative measurement methods such as chromatographs, make plant efficiency and optimization a reality.
The Sarasota FD900 Density Meter is designed for high accuracy density and density related measurement of gases, liquefied gases and low viscosity fluids. Providing continuous on-line density measurement, with accuracy to 0.1% of reading, the FD900 can be installed via sample by-pass or direct in-line. It is ideal for analyzer applications.
The Sarasota ID900 Insertion Density Meter gives accurate, continuous density measurement of liquefied gases and low viscosity fluids in true process conditions with direct insertion into the pipeline or vessel by a choice of methods. With features such as a retractable option, ensuring no downtime on pressurized lines, the Sarasota ID900 is a smart choice for process quality and control.
The Sarasota PD900 Pocket By-Pass Density Meter is designed specifically for the high accuracy measurement of gases. It provides continuous on-line density measurement at process conditions by directly mounting the thermowell into the pipeline. Ease of servicing ensures no downtime on pressurized lines, and no on-site calibration is required.
Applications
Fiscal/custody transfer gas metering
Ethane cracking and ethylene production
Energy management systems
Stack emissions analysis and control
LNG metering and control
Calorific value estimation
Specific gravity measurement
---