Thermotron 8800 Controller
Product Announcement from Thermotron Industries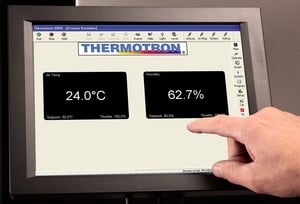 Thermotron's 8800 Controller is ThermoTrak II™ and Direct Link ready. Quick Navigation buttons provide shortcuts and Quick-step wizards make profile generation a breeze. The 8800 is Ethernet-compatible for network-wide accessibility. Computer interface and USB ports are located on the front of the chamber for easy access.
Real time system schematic displays actual refrigeration temperatures and pressures to aid in troubleshooting and maintenance. Solenoid pulse counts provide predictive maintenance information to optimize equipment performance. The complete data retention and activity log provide a comprehensive equipment history.
The 8800 Controller has a Data Acquisition (DAQ) system that increases product monitoring, control, and data collection capabilities. No without additional software or test equipment is needed.
As a standard feature on many of our popular SE-Series chambers, the 8800 DAQ provides 3 digital and 2 analog outputs and 1 re-assignable temperature measurement channel, all of which are configurable through the 8800 Controller interface.
Data collected by the 8800 DAQ can be viewed in the new DAQ tab built into the 8800 software interface and displayed on the real-time graph. Set-up wizards allow for configuring units, resolutions, average factors, low and high limits and notes with simple, step-by-step instructions. Digital readouts show the status of currently active channel conditions.
The 8800 Controller can be retrofitted to existing environmental chambers and the DAQ can be integrated into new and existing chambers by worldwide service centers and support staff.
---