Compact Chamber for Temperature/Humidity Testing
Product Announcement from Thermotron Industries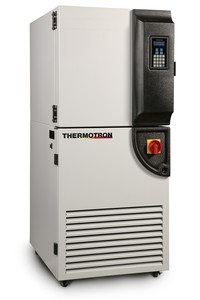 Developed to perform temperature and humidity testing where floor space is limited, the SM-4-S-8200, a compact, single stage environmental test chamber. Just 31" wide, with flush mounted controller in the door, the SM-4-S easily passes through narrow doorways and takes up very little floor space. Interior workspace dimensions of 20"W x 20"D x 20"H (51cm x 51cm x 51cm) make the SM-4-S ideal for temperature and humidity testing small products, subassemblies or components.
With a 2 HP, single stage hermetic compressor the SM-4-S has the capability of reaching temperatures ranging from -40°C to +180°C (-40°F to +356°F). The chamber provides moderate to fast temperature change rates and efficient utility consumption. The SM-4-S is able to reach humidity levels from 10% to 98% RH. The electronic humidity sensor ensures accurate testing and requires less maintenance than dry bulb wet bulb control sensors. This chamber is available in temperature/humidity and temperature only configurations.
Another advantage of the SM-4-S is its controller: the 3800 Touch Sensitive Programmer Controller. The 8200 has been designed and refined specifically for environmental test chamber applications. The interactive touch-sensitive keypad and informative four line display make program entry and monitoring easy. With build-in Ethernet connections, the SM-4-S interfaces with a computer for PC control and recording test data, while the web server feature enables remote access.
For over 40 years, Thermotron has been developing and refining environmental chamber solutions that set industry standards. Our broad range of products covers a multitude of environmental stresses that are capable of simulating single or multiple environmental use conditions in a variety of testing programs. Our work is defined by high quality, high reliability products, and a direct, dedicated service and support network.
---