SE-Series Environmental Test Chambers
Product Announcement from Thermotron Industries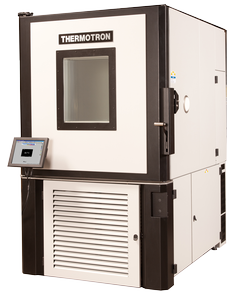 Thermotron's SE-Series environmental test chambers are engineered to provide the most accurate and reliable test results in the marketplace. The SE-Series Chambers are available with Thermotron's exclusive patented universal port, expanding the chamber's ability to perform thermal shock tests, HALT and HASS, product test system integration, and remote conditioning applications.
SE-Series Test Chambers feature Thermotron's unique 8800 Controller with touchscreen interface. The 8800 offers a brilliant 12" color touch screen display, Ethernet-compatibility and web-enabled front end for virtual anytime/anywhere access. Multi-level, password-based security protects sensitive data.
The SE-Series features a top end of 180ºC and high capacity compressors, capable of achieving very rapid product temperature change rates. Application-specific compressor selections from 3 to 15 Hp and several model configurations ranging from 10 to 69 cubic feet allow you to tailor a chamber to meet individual testing needs. Thermotron's patented modular humidity system can be easily added later to adapt to changing test needs. Optimized airflow systems provide conditioning throughout the entire workspace, providing more consistent test results, improving product temperature change rates.
For more information on Thermotron's products and environmental test solutions, please contact Thermotron Industries at info@thermotron.com or call 616-393-4580.
---