Universal Port
Product Announcement from Thermotron Industries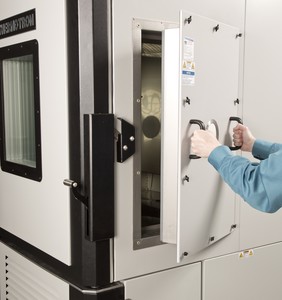 Thermotron builds on a solid installed base of environmental test chambers and is pleased to announce a novel approach to move from one tool-one test to one tool-multiple tests.
With the integration of a universal port, an portal installed in the sidewall of an SE-Series environmental test chamber, the test chamber can serve multiple purposes: the chamber becomes a gateway to future expandability and interchangeability. A wide selection of performance enhancing options can be adapted to the chamber to expand its capabilities, increase test system utilization, reduce capital investment, and make the test lab more productive.
Modules characterizing different stress testing and simulation techniques can be interfaced with the chamber through the Universal Port: the temperature chamber becomes the HALT chamber, becomes the Thermal Shock chamber, becomes the remote conditioning blower. Everything adding up to increased utilization and improved productivity. Universal Port openings serve as building blocks for future upgrades. And with this modularity, comes a definite cost advantage. By purchasing the environmental testing tool with a Universal Port, you can now build up your test lab resources without having to re-purchase an entirely new chamber from the ground up each time your testing requirements change. You benefit by adding functionality to your existing equipment without having to purchase another dedicated machine complete with cost-intensive controls and conditioning equipment.
You have successfully added from to your part list.
---