Product Announcement from Thermwood Corporation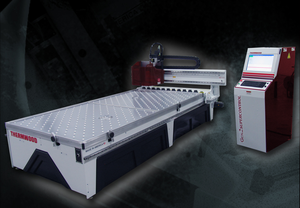 The CabinetShop 43 machine features:
• 61 by 121 inch fixed table to accommodate laminated panels
• 10 HP HSD spindle and an eleven position bar style automatic tool changer
• Siemens Drives throughout
• Outstanding Performance, High Speed Operation

This new system includes quality features seldom, if ever, found at this price point including full stress relieved weldments, high-end Siemens drives throughout, THK rails and three-dimensional volumetric position compensation, not available from anyone else in this market.
Thermwood Corporation is the oldest and most technically advanced manufacturer of high technology machine tools called CNC RoutersThermwood also develops, manufactures, distributes and supports allied software, technology, equipment and service intended primarily for the manufacturing sector.
Thermwood products are used in a wide variety of industries, markets and applications throughout the developed world. Thermwood is highly committed to offering the most advanced, capable and efficient manufacturing technology backed by unsurpassed service and support.
A CNC Router is:. Used to cut, trim and shape a wide variety of materials including wood, plastic, composites, foam, honeycomb core and non-ferrous metals into either flat or three-dimensional shaped products. These fast accurate machines are used by a wide variety of manufacturing industries including woodworking, plastic, aerospace, automotive, boating, medical and defense. Thermwood builds a wide selection of systems in both 3 and 5 axis configurations, from low cost packages for small shops to aerospace packages capable of machining small and large parts in a single setup.
CNC Routers by Application:
Better Machines with More Features and Better Support
Better Machines (this means better performance, more reliability and longer life)
High-Performance, Highly Reliable Siemens Drives (normally only on much more expensive machines)
Full Function, High Performance CNC Control(compared to limited, bottom end controls)
Designed using State of the Art ProEngineer CAD/CAM (assures best possible structure and performance)
Weldments Fully Stress Relieved (eliminates stress warping and cracking down the road)
Three-Dimensional Laser Compensated (machine is dead accurate everywhere – others can't do this)
More Features (means more productivity and greater thoughput)
Control Nesting (nesting at the control is easier and more productive)
Free High-End Cabinet Design Software (eCabinet Systems is an industry leading software package)
QuickCut - Select nested based products from a library at the machine control, resize and cut without the need for external computers or design software – the easiest way to make nested based products.
Extensive Software Compatibility (control accepts output and can even combine files from a wide variety of design software including ProE, Catia, CabinetVision, eCabinet Systems, KCDw, AutoCAD DXF, etc.)
Virtual Service (address any problem from configuration to programming by connecting the control directly to service – fast and really easy)
Automatic Tool Management (manages tooling and tool life – not easy without this feature)
Maintenance Tracking (manages lubrication and routine maintenance based on actual machine use)
Error Reporting (graphically displays location of error and suggests remedy – with others finding and fixing is a nightmare)
Maintenance Videos (on-screen videos guide you through adjustment and repair)
Dynamic CAD Drawings (view and explode every machine assembly on the control screen for maintenance and part identification)
Dynamic On Screen Manuals(view and search the machine manual right on the control screen)
Better Support (help when you need it)
Extensive Spare Parts Inventory with Overnight Shipping(should you ever need it)
Why buy software from Thermwood?
1. Thermwood understands the application. Your local software salesman may understand the software package but it is highly unlikely that he understands your application and even less likely he understands the machine you plan to work with. Thermwood knows how the package works with our machines. We know what you can and can't do with it and we know how to configure it. This experience will soften the steep learning curve common with new software packages and will likely save you far more than any discount you might get from a local software salesman.
2. We've solved the integration problems. Installing a software package on a computer system requires proper configuration and installation. Getting that system to work with a CNC control also requires configuration and integration. Thermwood has already done this work for the packages it offers so you don't have to.
3. Our integrated training. A third party software vendor can train you on their software package, but they are normally not experts on the Thermwood control and cannot teach you the intricacies of how the software and control work together. This information is normally available only from Thermwood.
4. Thermwood software support. Thermwood can provide support for the software package, the control and, most important the operation of the two together. Support for the use of a software package with Thermwood's control is only available if the software package was also purchased from Thermwood, otherwise you must turn to your local software salesman.
5. Multi-package integration. Sometimes the best package is not a single package but several software packages available from several different vendors. These packages must work together and work with Thermwood's control. It is highly unlikely that your local software vendor will know the proper packages, or that he will just happen to represent exactly what you need, or that he will know how to make them work together for your application.
6. Professional evaluation. Thermwood engineers constantly evaluate new software offerings. Many software vendors routinely send Thermwood their new software products for evaluation. We are in a unique position to know which products are best for our customers, which work properly and which don't. There are literally thousands of programs being offered to our customers but unless they purchase each to test it, it will be difficult for them to know what is best. When you purchase software from Thermwood you know we have fully evaluated it, it works and we have selected it from the multitude of products clamoring for your business.
You have successfully added from to your part list.
You need Flash player 8+ and JavaScript enabled to view the Positioning Speeds To 3,180 Inches Per Minute video.
Get the Latest Flash player.
---