Product Announcement from Thermwood Corporation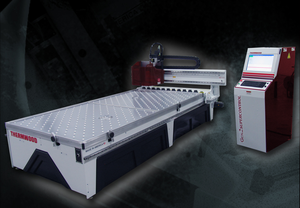 The CabinetShop 43 machine features:
• 61 by 121 inch fixed table to accommodate laminated panels
• 10 HP HSD spindle and an eleven position bar style automatic tool changer
• Siemens Drives throughout
• Outstanding Performance, High Speed Operation

This new system includes quality features seldom, if ever, found at this price point including full stress relieved weldments, high-end Siemens drives throughout, THK rails and three-dimensional volumetric position compensation, not available from anyone else in this market.
Welcome To Thermwood:
Thermwood Corporation is the oldest and most technically advanced manufacturer of high technology machine tools called CNC RoutersThermwood also develops, manufactures, distributes and supports allied software, technology, equipment and service intended primarily for the manufacturing sector.
Thermwood products are used in a wide variety of industries, markets and applications throughout the developed world. Thermwood is highly committed to offering the most advanced, capable and efficient manufacturing technology backed by unsurpassed service and support.
A CNC Router is:..used to cut, trim and shape a wide variety of materials including wood, plastic, composites, foam, honeycomb core and non-ferrous metals into either flat or three-dimensional shaped products. These fast accurate machines are used by a wide variety of manufacturing industries including woodworking, plastic, aerospace, automotive, boating, medical and defense. Thermwood builds a wide selection of systems in both 3 and 5 axis configurations, from low cost packages for small shops to aerospace packages capable of machining small and large parts in a single setup.
Products:
The CabinetShop Series
combines all the elements needed for a custom cabinet shop to design and machine custom cabinets, custom furniture and support products.
The Multi-Purpose Five Axis Series
combines all the elements needed for trimming formed parts, patterns or molds using five-axis simultaneous motions.
We offer :

Tooling
Fixture Materials
Production Supplies
Support Products for Industrial CNC Routers
Fravol Edge BandingCertified Remanufactured/Pre-Owned
Thermwood Corporation's Technical Service Division has an ongoing machine refurbishment program. The machines are purchased by Thermwood and brought back to Thermwood's facility for a complete refurbishment process. This refurbishment process does not only apply to Thermwood-owned machines, but can apply to existing owners who wish to bring their antiquated machines up to today's standards.
The Thermwood QCore SuperControl
The Thermwood QCore SuperControl is a feature rich, high performance CNC control system. Thermwood, the only major CNC router manufacturer that designs and builds its own CNC control, is a leader in implementing advanced control technology. As a result, Thermwood has been granted more patents on CNC router technology than all other CNC router manufactures in the world, combined.
eCabinet Systems Online Training
Powerful Learning/Great Price! Software Products:
ARTCAMFinal FinishI-CutMastercamPanelMetrixPolhemusQuick cutOther Software
CNC Routers by Application:
You have successfully added from to your part list.
You need Flash player 8+ and JavaScript enabled to view the Positioning Speeds To 3,180 Inches Per Minute video.
Get the Latest Flash player.
---