Power Tool Manufacturers: Electric Motor System
Product Announcement from Thor Power Corporation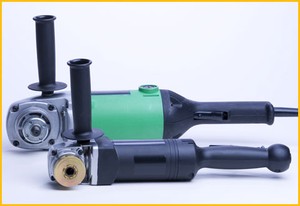 Thor Power's groundbreaking TREZIUM® electric motor system is poised to revolutionize the power tool industry, both hand tools and stationary, by enabling manufacturers to create a new generation of products that are smaller, lighter, more durable and more powerful than what's available on the market today. The result is a greater return on investment and significantly better user experience.
The motors currently being used in hand and stationary power tools is based on technology that's more than 100 years old. Thor Power is changing that.
Our TREZIUM® System is designed to be incorporated into power tools such as grinders, saws, drills, planers and routers used by professionals and serious do-it-yourselfers who understand the importance of high quality products that enable them to do a better job, easier. Incorporation of our motor technology will significantly increase efficiency, reduce the size of the tool and provide for a much smoother operation.
Thor Power's TREZIUM® System offers significant improvement over traditional technology, such as:
The motor can reduce the weight of the tool by more than half.
The motor is more durable and longer lasting than motors on which existing tools rely.
The system has an efficiency rating of 80% compared to the efficiency of existing tools of less than 67%.
The system offers more consistent speed and a smoother operation so tools won't freeze.
The system enables the tool to be usable anywhere in the world with a simple plug change.
By partnering with Thor, manufacturers can produce the top-of-the-line product that delivers great payback, performance and shelf life for their end users building customer loyalty and market leadership. Inquire with our team of engineering professionals to learn more about how use of our independently tested electric motor technology can place your company at the technological forefront of the power tool industry
You have successfully added from to your part list.
---