Product Announcement from Ticona Engineering Polymers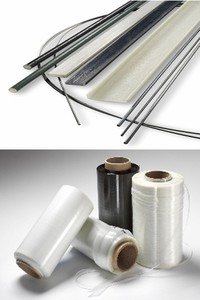 Celstran® thermoplastic composites encompass a number of long-fiber and continuous fiber reinforced thermoplastics that can be adapted in tailor-made fashion to customer requirements. Nearly all types of semi-crystalline and amorphous thermoplastics polymers are suitable as thermoplastic matrix materials. A wide range of resins, fibers and additives are available.
Celstran is produced in a special patented process through which high impregnation quality is achieved without damage to the fibers. Every single filament of the reinforcement fibers is wetted intensively in this process. Product forms can be pellets (1/2", 1" and custom lengths) and Unidirectional Fiber Reinforced Tapes (4", 6", 8", 10" and custom widths).
Celstran® continuous fiber reinforced thermoplastics (CFR-TP) for unidirectional tapes, rods and profiles:
· Low weight with high stiffness and toughness
· Excellent impregnation technology
· High-performance dimensional, mechanical and thermal properties
· Superior chemical and corrosion resistance
· Eco-friendly processing, recyclability
· Wide range of resins, fibers and additives
You have successfully added from to your part list.
---