Product Announcement from Celanese Corporation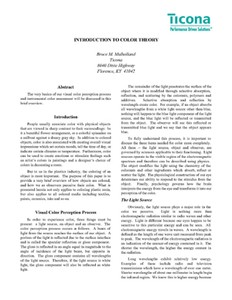 Save money with molded-in color polymers. Download and learn from this whitepaper the basics of Ticona's visual molded-in color perception process and instrumental color assessment. Author: Bruce Mulholland of Ticona Engineering Polymers
Color can be used to create emotions or stimulate feelings such as artist's colors in paintings and a designer's choice of colors in decorating a room. It can also differentiate brands. But to us in the plastics industry, the coloring of an object is most important.
The purpose of this paper is to provide a very brief overview of how objects are colored, and how we as observers perceive their color. What is presented herein not only applies to coloring plastic resin, but also applies to all colored media including textiles, paints, ceramics, inks and so on.
Click here to download Ticona's "Introduction to Color Theory" white paper.
You have successfully added from to your part list.
---