Attacking Costly Production Issues with TigerStop
Product Announcement from TigerStop, LLC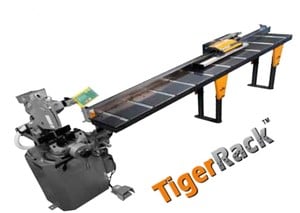 National Railway Equipment Company (NREC), the world's largest independently owned manufacturer and remanufacturer of locomotives and products worldwide, turned to TigerStop, LLC to provide solutions to their manufacturing challenges.
Faced with rising manufacturing costs and lost production dollars, National Railway had to rethink their operating strategies and focus on developing lean manufacturing processes. They experienced lost productivity, material waste, costly mistakes by manual processes which resulted in disassembling an entire cab to correct inaccurate tubing and angle iron lengths. The time it takes to measure each piece by hand, move and clamp them down, and mark and set each piece is a repeated step that significantly decreased production time. Operators use high-powered cold saws to cut materials and continuously put their hands near the blade while using their tape measure to process parts. The constant interaction with the blade is a top safety concern. National Railway was simply fed up, and turned to TigerStop for their solution.
Benefits Received by National Railway
Quadrupled cutting operations
Improved safety and accuracy
Ability to pass savings to customers
6-month return on investment
Significantly reduced waste
Retained skilled laborers and increased job satisfaction
TigerRack is easy to use
Click here to view National Railway Case Study
To contact us, please click here.
---