Product Announcement from Time Mark Corporation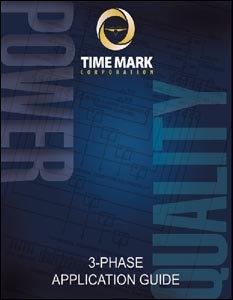 Free 3-Phase Application Guide Now Available To Protect Equipment With Time Mark 3-Phase Monitors
A free 3-Phase Monitors Application Guide is now available from Time Mark Corporation, manufacturers of 3-Phase monitors, current monitors, voltage sensors, pump and liquid level controls, instrumentation controls, and Signaline timing devices.
Offered as a guide for equipment designers, maintenance personnel, electrical contractors, etc, the brochure incorporates explanatory text, application diagrams, tables, and charts of Time Mark 3-Phase Monitor installations to sense phase loss, phase unbalance, and low voltage.
Typical 3-Phase applications are presented to include:
· Loss of phase in secondary protection circuits
· Failure in primary or secondary transformer windings
· Phase reversal throughout the distribution system
· Low voltage on feeder lines
· High voltage on feeder lines (on selected models)
Shunt trip applications, elevator protection circuits, air conditioning systems, or water and sewage lift stations are among specific locations where 3-Phase monitors are emphasized to sense phase loss, phase unbalance, or low voltage. The Application Guide also offers a Quick Reference Guide.
For your free 3-Phase Application Guide visit their web site.
You have successfully added from to your part list.
---