Model 441 - Multi-Stage Alternator
Product Announcement from Time Mark Corporation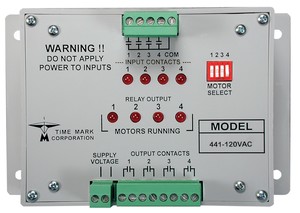 DESCRIPTION
The Model 441 Multi-Stage Alternator is designed to control the operating sequence of multi-stage motor/pumping systems. It can also be used to maintain the desired level of pressure-on air compressor systems. Four motor select DIP switches located on the front panel allow the alternator to control a single-motor/pump, two-motor/pump, three-motor/pump or four-motor/pump system.
The Model 441 will assure that only the necessary motors/pumps are operating, and that the run time for each motor/pump is approximately equal. Motors are sequenced "first-on, first-off". If the motor/pumping demand requires only one motor/pump at a time, the alternator will start the next motor/pump in sequence each time an input switch is closed. Input switches may be float switches, pressure switches, flow switches, etc., as required by the application.
Potential uses for the Model 441 include water supply systems, sewage disposal plant systems, storage tank filling systems, air compressor systems, irrigation and water recycling systems.
SPECIFICATIONS
For Models 441-120 and 441-240
Input Voltage: 120 VAC +/- 10% 50/60 Hz (442-120)
240 VAC +/- 10% 50/60 Hz (442-240)
Power Consumption: 6.0 watts max.
Transient Protection: 2500 VRMS for 10ms
Delay Between Relay Operations: 5 seconds
Output Contact Rating: SPST 5A at 240 VAC or 5A at 30 VDC resistive
Input Contact Requirement: 0.001 amp at 12 VDC
Expected Relay Life:
Mechanical: 50 million operations
Electrical: 100,000 ops at rated load
Operating Temperature: -20 degrees to +140 degrees F
Humidity Tolerance: 0-97% w/o condensation
Enclosure Material: ABS Plastic
Weight: 1.0 lbs.
---