Video Borescope...Low Cost
Product Announcement from Titan Tool Supply, Inc.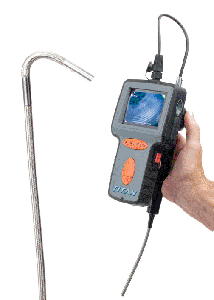 Titan Tool introduces Two New Low Cost Portable Video Borescopes for Remote Inspections.
Desigend for portable, on-site inspections, these two (2) videoscopes with 5.7mm diameter insertion tubes have braided stainless steel, waterproof mesh sheathing for durability. Prices start at just $4,299.00 for the 1 meter unit with the 3 meter unit at just $4,999.00.
The articulating video borescopes feature articulation (+/- 120 degree) with on-board (stand-alone) image processing and battery-powered operation.
The new flexible videoscopes have a high-resolution 3.5" LCD screen with 320 x 240 pixel resolution. Four (4) buitl-in LED lights with intensity control. The unit also has a 5X electronic zoom control; depth of field is 3mm to 50mm (0.118" to 1.790") with a 65 degree field of view.
The camera image sensor is made by Omnivision (USA) and comes with a 1GB SD card for image storage. The still image storage format is JPEG (720 x 625) with video image storage format AVI (720 x 525). The unit comes complete with a foam-fitted aluminum carrying case, USB cable for connecting to a computer and A/V cable for external video viewing.
---