Linear Servo Actuators - Compact, High Force
Product Announcement from Tolomatic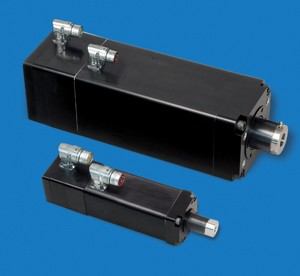 Tolomatic's unique IMA55 high-force servo linear actuator is now available with an optional roller screw that boosts its thrust capability to 6,875 pounds force (30,470 N). In addition, a new compact IMA22 integrated-motor actuator has been added to the line. The IMA22 features a ball screw and can deliver up to 325 pounds force (1,446 N). Available in four sizes, the IMA line of integrated-motor rod actuators features stroke lengths from three to 18 inches (76.2 to 457.2 mm) at speeds up to 24 inches per second (610 mm/sec). The addition of these two actuators significantly expands the range of applications for these actuators to include pressing, clamping, valve control, spot welding and volumetric filling.
"The standard ball screw on the IMA22 offers efficiency and economy in lower-force applications that require accuracy, repeatability and durability in a compact package."
"With the addition of the roller-screw option on the IMA55, the service life of the actuator increases by nearly 10 times in high-force applications," said Aaron Dietrich, marketing manager, Tolomatic. "The standard ball screw on the IMA22 offers efficiency and economy in lower-force applications that require accuracy, repeatability and durability in a compact package."
All of the IMA actuators integrate a servomotor and a ball or roller screw for long service life that is designed to fit a multitude of budgets. With its integrated servomotor, the IMA actuator is shorter for a given stroke length than other types of rod actuators. Its patent-pending design allows for easy re-lubrication of the screw without disassembly, reducing maintenance and increasing service life compared to other rod actuators without this feature.
A variety of available modifications to the IMA line of integrated-motor actuators expand the range of operating environments. Modifications include:
Food-grade white epoxy coating with stainless steel hardware and mounting options for greater corrosion resistance in food and beverage washdown environments;
Ingress protection ratings of IP65 (standard), IP67 (optional) and IP69k (modified standard).
Both the IMA22 and IMA55 actuators feature a hollow-core rotor design that allows the nut of the screw to pass inside the rotor, creating a very compact package. This decreases overall actuator length compared to standard actuators due to the elimination of a separate motor, motor mount and gearbox. In addition, the motor features skewed stator windings to minimize cogging of the motor and provide more efficient motion with improved force repeatability. Tolomatic's sizing and selection software makes selecting an IMA actuator easy.
For more than 50 years, Tolomatic has been a leading supplier of electric linear actuators, pneumatic actuators and power-transmission products for factory automation. Its extensive product line also includes servo-driven high-thrust actuators, servo and stepper motors, stepper drives and configured linear-motion systems. Tolomatic's electric linear and pneumatic actuators are used in a variety of industries, including the packaging, material handling, medical, food processing, automotive, semiconductor and general automation industries. For more information about Tolomatic's new IMA22 and IMA55 integrated motor actuators, contact Tolomatic, 3800 County Road 116, Hamel, Minn. Phone: (763) 478-8000 or (800) 328-2174. Website: www.tolomatic.com.
You have successfully added from to your part list.
---