Rapid Assembly Modular Shelters (T-RAMS)
Product Announcement from Trachte, LLC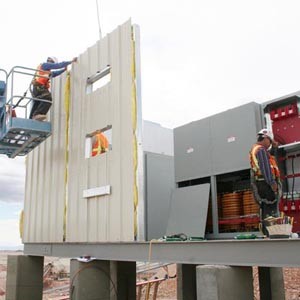 T-RAMS are pre-engineered, all-steel technical equipment buildings intended to house high value electrical and mechanical systems.
The control buildings and equipment shelters are manufactured and delivered in modular sub-sections that are uniquely optimized for transporting by all common carrier modes, including closed van, flat bed, ISO container, air cargo and rail. T-RAMS are designed by Trachte for ease of installation, either on site or at an interim OEM/staging facility. (Typically, a substation control building can be fully assembled in two to three days.) Pre-engineered, pre-fit HVAC, cable trays and other electrical system requirements can be configured and included in the base package.
T-RAMS buildings and shelters are ideally suited for remote locations, OEM "J.I.T." programs, and applications where electrical and other equipment integration occurs at an interim location (for further delivery as a fully assembled/integrated solution).
Buildings are typically set on a concrete slab, perimeter foundation, piers, or on a Trachte supplied steel floor. The small footprint sectional format puts Trachte shelters where you need them, even for areas such as multi-level platforms, inside existing structures, penthouses and mezzanines, catwalks, etc. Assembly requires basic handheld power tools and a lift assist device.
The T-RAMS "Quick Ship" program gives you the opportunity to have a Trachte control building on site (in standard sizes and configurations) in as little as three weeks.
Non-combustible
Meet extreme seismic and wind loading requirements
Fully pre-engineered with PE stamped plans (as required)
Made with 100% recyclable materials
Completely relocatable, surviving knock-down and re-erect
Energy compliant, high performance thermal insulation system
Fully framed structural members of galvanized steel
24 gauge exterior siding with baked on Kynar super coating (30/40 year finish warranty)
Available in an assortment of standard colors
22 gauge interior steel liner (rib free smooth surface)
All steel, insulated doors
Steel roof members and solid web steel trusses
Shelters are expandable and inter-connectable
Quick Ship option (standard versions only)
---