Shrink Covers with VCI for Industrial Applications
Product Announcement from Transhield, Inc.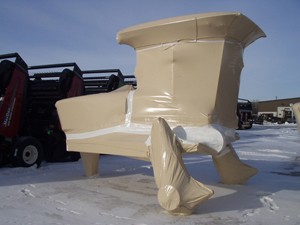 Transhield custom fit industrial covers are available as an alternative to conventional hand wrapping or other packaging for a wide range of industrial or large equipment applications including metals, machinery, large parts and vehicles. These covers are easy to apply, can be removed quickly and easily, and in many cases are reusable.
Made from Shrinkable Fabric™, Transhield covers consist of three layers: an outer layer that is UV-resistant and anti-condensation, the middle layer is a hot melt adhesive containing no solvents and a soft, cloth-like polyester inner layer. These covers feature the patented Adhesive Additive Delivery – Vapor Corrosion Inhibitor (AAD-VCI) system which provides 100% protection from corrosion during transportation and storage. This unique non-abrasive composition protects against the elements during transportation and storage without causing damage to paint, gel coats or decals of products.
---