Transhield Covers for Military Applications
Product Announcement from Transhield, Inc.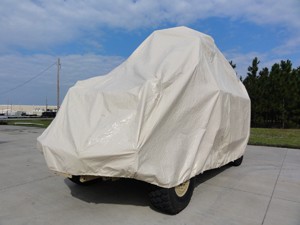 Transhield, Inc., the leading provider of protective covers in commercial and industrial markets, continues with its Strategic Military Market expansion, offering the latest generation in protection covers for the U.S. Military. Transhield custom-fit covers offer the lightweight and ease-of-use found in earlier vinyl and tarp covers combined with the durability, breathability and corrosion reduction of Vapor Corrosion Inhibitor (VCI) products. These covers offer protection against environmental factors including corrosion, dust, wind, rain, snow and UV rays.
Transhield has provided protection products to the U.S. Military since 2001, focusing primarily on the U.S. Marine Corps and the U.S. Army ground based equipment market. Transhield's military presence grew and it is designated the "Preferred" cover by the USMC Corrosion Protection and Control Program Office. Transhield has supplied more than 20,000 vehicle and equipment covers to the U.S. Military since 2008. The company was recently awarded a $4.5 million contract by the U.S. Marine Corps to provide 3,700 protective vehicle and equipment covers, primarily to protect the Marine Corps' entire fleet of Mine Resistant Ambush Protected (MRAP) vehicles. Transhield was also awarded a contract to supply 120 protective covers for MaxxPro Mine Resistant Ambush Protected (MRAP) vehicles. The covers were purchased by U.S. Army Strategic Logistics Activity Charleston (ASLAC) to maintain readiness for MRAPs being placed into prepositioned stocks. Transhield protective covers are available on the GSA Federal Supply Schedule under contact number GS-02F-0103R.
Three patented Transhield cover technologies are used for military applications. Transhield XT is a custom-fit, reusable cover, the preferred product of the operating Ground Forces. ArmorDillo™ is a recently developed cover which is more durable, more breathable and offers better VCI penetration. Transhield VCI Shrinkable Fabric™, Transhield's standard low cost, durable, breathable and shrinkable fabric for transportation and storage protection.
---