AFLAS® Gaskets for Heat Exchangers
Product Announcement from Tranter, Inc.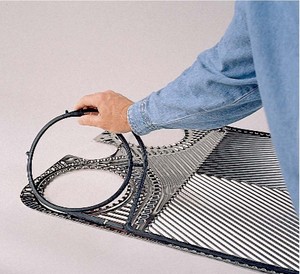 Wichita Falls, TX, April 27, 2012 - Tranter is excited to announce the formal release of AFLAS® gaskets for use on their line of Heat Exchangers. The new gasket's are beneficial on Tranter plates when difficult applications warrant the use of special material. AFLAS® is an FEPM (tetrafluoroethylene propylene copolymer) material with excellent resistance to a variety of media such as mineral acids, bases, organics, amines, and steam. AFLAS® fluoroelastomers are the material of choice for products and systems that work in tough environments and require high reliability.
AFLAS® can be offered on any of our conventional designs, but is not available on wide gap plates at this time.
The gaskets have been qualified in our lab to a maximum operating temperature of 180oC and a maximum design pressure of 16 bar using 0.6 mm thick SS plates. AFLAS® is similar to FKM in the pressure and temperature. It is recommended to use 0.6 mm minimum thickness plates with AFLAS® as it is a harder gasket material than more conventional NBR & EPDM.
About Tranter, Inc.
Tranter is a global engineering and manufacturing group specializing in thermal management in the process industries, district heating and within the building envelope. Tranter is strongly committed to expansion and leadership in all aspects of the plate heat exchanger business. Tranter strives to attain market leadership by applying a three-part philosophy: investing in R&D to maintain a competitive edge, providing customized products with a solution-driven approach and supporting its customers' life-cycle investments through quality parts & service. Backed by more than 70 years of exclusive focus on heat transfer, Tranter has earned its reputation as "The Heat Transfer People." www.tranter.com
You have successfully added from to your part list.
---