Heat Exchangers for Hydrocarbon Processing
Product Announcement from Tranter, Inc.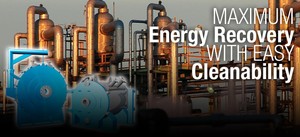 Hydrocarbon Processing
Oil and gas midstream and downstream processing places special demands on heat exchanger thermal and hydraulic design, life-cycle cost, footprint and weight.. Such equipment must not only withstand corrosive media, two-phase mixtures, extreme pressures and temperatures, but also be extremely compact. Tranter offers a wide range of gasketed, welded and spiral heat exchangers, proven to meet the toughest customer requirements. Our customers include leading oil and gas companies such as Shell, ExxonMobil, British Petroleum, ChevronTexaco and TOTAL.
Plate Technology Flexibility Improves Capacity And Control In A Small Footprint With Easier Maintenance

Do more with less. Plate heat exchanger technology answers today's challenge for hydrocarbon processing. Plate heat transfer efficiency promises and delivers benefits in:
Size and weight efficiency helping to accommodate capacity expansions
Compact size helping make higher alloy units more affordable, with shorter lead-times
Low hold-up volume with rapid thermal response, for precise process control throughout load swings
Extremely high heat transfer rates and practical temperature approaches as low as 1°C (2°F)
High internal turbulence, reducing fouling and scaling tendencies for longer maintenance cycles
Highly configurable thermal length for outstanding performance in boiling, evaporating and condensing duties
Single-flow-path spiral heat exchangers for reduced-maintenance processing of particle-laden and viscous flows

Tranter offers a range of plate heat exchangers and shell and plate heat exchangers proven under the most demanding chemical processing operating conditions. Leading refineries and gas plants choose Tranter for high-performance plate technology that optimizes thermal and hydraulic design in difficult duties such as:
Low-temperature LPG thermal control with long life cycles under frequent thermal cycling
Lean/rich glycol interchanger without rapid fouling
Gas phase heat recovery
Kettle or thermosyphon reboiling
Cooling and heat recovery from column bottoms
Vent condensing in the presence of noncondensibles
Detailed Application Engineering And Documentation
For heat exchanger units in critical service, Tranter can provide all major types of calculations and stability analysis, including motion load, wind load, seismic load, nozzle load and even detailed finite element analysis calculations if required. A dedicated Document Control Department produces documents in accordance with the most stringent of customer requirements.

Tranter fabricates in accordance with all major design codes, specifically ASME Section VIII Division 1 with U stamp, PED 97/23/EU with CE stamp and API 662 / ISO 15547. All Tranter manufacturing centers worldwide are certified according to ISO 9001:2008.

Global Service Coverage
Efficient operation is the key to optimum return of investment. Service centers located worldwide are ready to assist with OEM plates, gaskets, assembled plate packs, cleaning services and replacement units. Tranter sources systems in easy range of power generating stations, minimizing lead-time and freight for accommodating tight project schedules. With Tranter authorized service, you can always be sure that you get the right gaskets, the right plates and our OEM Guarantee. This ensures that the heat exchanger fulfills the original standards as well as the new common European Pressure Vessel Code, PED (Pressure Equipment Directive) highlighting the use of genuine parts regarding health and safety requirements.
Hydrocarbon Processing
You have successfully added from to your part list.
---