Heat Exchangers for the Renewable Energy Market
Product Announcement from Tranter, Inc.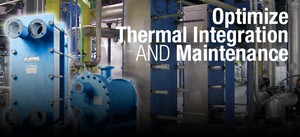 Renewable Energy
Thermal efficiency-an absolute necessity to be sustainable in the energy marketplace. That is the advantage you obtain with Tranter Plate Heat Exchangers. Add to that outstanding fouling/scaling resistance, durability, long life cycles, compact size and easier maintenance, and you have a winning combination. Whether process heating/cooling/condensing, equipment thermal protection or high pressure/temperature/corrosive duties-our advanced plate technologies will keep you ahead.
Whether Exchanging Heat Liquid/Liquid, Liquid/Gas Or Vapor, Gas/Gas...Plate Technology Maximizes Energy Conversion Efficiency
Economically sustainable processes in the renewable energy industry are critical to ultimate success and the 'greening' of the energy marketplace. Meeting the challenge means you must maximize process thermal efficiency and optimize uptime while minimizing costly maintenance. Tranter advanced plate heat exchanger technologies in Plate Heat Exchangers, Shell & Plate Heat Exchangers, Spiral Heat Exchangers and Prime Surface Heat Exchangers help accomplish exactly that with benefits such as:
High thermal efficiency and heat recovery potential
Outstanding protection for critical upstream and downstream components
Simpler maintenance
Good resistance to fouling and scaling
Compact footprint and light weight
Compact size for low cost in higher alloys

Your Tranter representative can help survey all your surplus and counter-flowing heat streams, providing you with recovery feasibility models, prioritized for economic impact, for duties such as:
Heaters and interchangers (feedwater, juice, mash, beer, fatty acids, feedstocks, methanol/catalyst, glycerol, glycerol/biodiesel, geothermal source, solar molten salt)
Steam generators and superheaters
Coolers (ethanol, column bottoms, fatty acids, condensate, lube oil, geothermal source)
Condensers and vent condensers (ethanol, syrup, methanol, turbine exhaust)
Heat recovery (dryer exhaust, high- or low-grade surplus heat sources)
Reboile
rs (glycerol/methanol)
Vacuum distillation chamber heater (raw methyl ester, glycerol)
Tank heating and suction heating (prime surface banks)

Renewable Energy
You have successfully added from to your part list.
---