Heat Exchangers for you HVAC needs
Product Announcement from Tranter, Inc.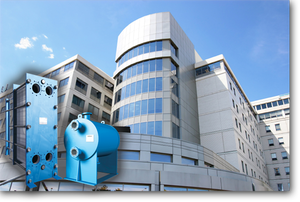 Why Tranter For HVAC? Technology On The Front End And Service On The Back End

With so many choices for HVAC heat exchangers, what makes Tranter Plate Heat Exchangers and Tranter Shell & Plate Heat Exchangers stand out? First, it's our technology, with many plate styles and sizes for a precise thermal length and a finely tuned solution. Time after time, our solution involves a smaller unit with fewer plates than our competitors, which saves you money. Second, it's after-sale OEM service from our worldwide network of Service Centers.

Consider these Tranter Plate Heat Exchanger advantages:
Practical for close approach duties, with High "U" or "K" values and temperature approaches (1°C or 2°F) for rapid response, high efficiency and maximum possible heat recover
Unique turbulent flow design for fouling resistance, especially important with cooling tower water
Immediate availability (made in factories strategically located worldwide)
Compact and light weight for easy retrofits in existing mechanical spaces
Expandability and easy servicing within its own footprint
Design flexibility makes them ideally suited for a wide variety of applications

Tranter Plate Heat Exchangers for HVAC are found in sites such as:
Municipal district heating/cooling
Institutional or campus district heating/cooling
High-rise buildings
Industrial facilities

Detailed Application Engineering And Documentation
For heat exchanger units in critical service, Tranter can provide all major types of calculations and stability analysis, including motion load, wind load, seismic load, nozzle load and even detailed finite element analysis calculations if required. A dedicated Document Control Department produces documents in accordance with the most stringent of customer requirements.

Tranter's "A" line of Plate Heat Exchangers has received the Air-Conditioning, Heating and Refrigeration Institute's (AHRI) ARI Standard 400 certification for liquid-to-liquid, plate-type heat exchangers. The ARI certification covers 40 units, from the ACD-008 to the AXD-205. These Tranter exchangers are listed in the Certified Products Directory at www.ahridirectory.org.

Global Service Coverage
Efficient operation is the key to optimum return of investment. Service centers located worldwide are ready to assist with OEM plates, gaskets, assembled plate packs, cleaning services and replacement units. Tranter sources systems close by, minimizing lead-time and freight for accommodating tight project schedules. With Tranter authorized service, you can always be sure that you get the right gaskets, the right plates and our OEM Guarantee. This ensures that the heat exchanger fulfills original as well as updated standards.
You have successfully added from to your part list.
---