Plate & Frame Heat Exchanger Replacement Gaskets
Product Announcement from Tranter, Inc.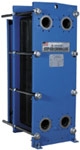 Restore Operating Efficiency! Plate & Frame Heat Exchanger Replacement Gaskets -Most Popular Brands With Factory Guaranteed Materials & Workmanship
Trust replacement gaskets from Tranter to provide many trouble-free years of performance for most brands of plate and frame heat exchanger (PHE) units.
From its factory and authorized service facilities throughout the world, Tranter offers standard replacement gaskets for most brands and models of PHEs, with guaranteed materials and workmanship. Quick-Ship Gaskets Cover Most PHE Models:
• Alfa Laval
• APV
• Mueller
• ReHeat
• ITT
• Bell & Gossett
• GEA
• Vicarb
• Schmidt Bretton
• Graham
• as well as the full Tranter and SWEP PHE lines.
Gasket Materials/Availability
EPDM, NBR and Viton-in both glued and snap-in configurations. Other materials may be available on a special order basis. Normal delivery for EPDM and NBR gaskets is 3 - 5 working days; 7 - 10 working days for Viton. Expedited deliveries (air freight) of EPDM and NBR gaskets are available for emergency orders.
Warranty Replacement gaskets are guaranteed to fit, and to be manufactured of the compound referenced on the order. The standard Tranter warranty on all gaskets furnished will be one year after shipment. Please note that the warranty excludes incompatibility and/or operation beyond the temperature/pressure limitations of the gasket material.
Ready to Order?
Contact Tranter PHE at aftermarket@tranter.com
You will need to furnish: (1) a manufacturer name and model number, (2) identification of the gasket material desired, (3) which type of gasket is needed-glued or snap-in, and (4) the quantity required.
It is generally understood that a gasket set includes a front plate set and an end plate set. Please advise, when ordering for unit configurations other than four nozzles on the stationary frame.
You have successfully added from to your part list.
---