Tranter Improves Packaging
Product Announcement from Tranter, Inc.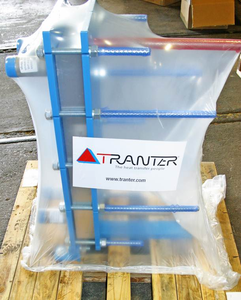 Wichita Falls, TX – Tranter has announced the adoption of new packaging for all Tranter equipment. The improved packaging is yet another example of Tranter's commitment to be best in class. The added packaging enhancements are designed to improve the customer experience and reduce transport damage.
Examples of the enhancements include the addition of nylon material covering the bolt threads of Superchangers to prevent the threads from wear or damage. In addition, all moveable parts of Superchangers are braced to the pallet to reduce stress on the guide bar, thus further reducing damage.
Superchanger, Maxchanger, and Supermax units are now shrink-wrapped to protect the units from adverse weather conditions as well as ensuring that the straps and other devices used to keep units in place are not disturbed. Platecoil is also getting an upgrade with custom crates and pallets made to size to prevent any overhang and brace all parts against movement during transit.
At Tranter, we are committed to best in class products and services and are continually investing in ways to enhance our customers' experiences. For more information, you are encouraged to visit the company website at www.tranter.com.
About Tranter
Tranter is a global engineering and manufacturing group specializing in thermal management in the process industries, district heating and within the building envelope. Tranter is strongly committed to expansion and leadership in all aspects of the plate heat exchanger business. Tranter strives to attain market leadership by applying a three-part philosophy: investing in R&D to maintain a competitive edge, providing customized products with a solution-driven approach and supporting its customers' life-cycle investments through quality parts & service. Backed by more than 80 years of exclusive focus on heat transfer, Tranter has earned its reputation as "The Heat Transfer People." www.tranter.com
You have successfully added from to your part list.
---