Airframe Seals
Product Announcement from Trelleborg Sealing Solutions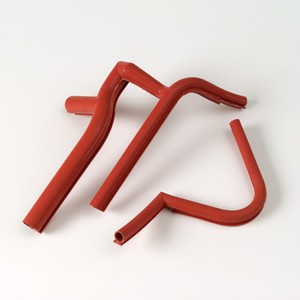 Trelleborg Sealing Solutions airframe seals, from existing tooling where possible, are used within the engine, structural gaps, wings, doors, hatches and windows to meet customer needs throughout the aircraft. Trelleborg Sealing Solutions design capabilities can also address applications for wing and moving surfaces including complex aerodynamic shrouds for hydraulic jacks, extrusions and fabricated seals for doors and hatches, and interior couplings, inflatable cockpit canopy seals and fabricated swing-wing fuselage fairings.
Through materials research, Trelleborg Sealing Solutions has developed an advanced composite fire seal that is compliant with international standard ISO 2685, withstanding flame temperatures of +2012 °F / +1100 °C for 15 minutes.
Turel® elastomers for aerospace applications are currently available in nitrile, silicone, and fluorosilicone grades. Parts are available as either homogenous or fabric-reinforced.
Our airframe sealing profiles include:
Blade/Leaf seals
P-Seals
D-Seals
Tadpole Seals
Hollow Seals
Solid Seals
Inflatable Seals
Fireseals
Ducts
Hoses
Gaskets
EMI/RFI Shielded Seals
Trelleborg Sealing Solutions has developed a unique capability to manufacture airframe seals that vary in profile shape and size over the length of the part. Such a process allows for increased design flexibility when developing aircraft structures and access panels.
---