Glyd Ring®
Product Announcement from Trelleborg Sealing Solutions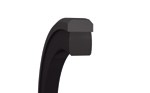 Glyd Ring® refers to a group of bidirectional, thermoplastic slipper seals made of Turcon® or Zurcon® high-performance engineered thermoplastic materials. They can be used for both rod and piston sealing, and come in many different variations, including the Turcon Glyd Ring® T, Glyd Ring®, Turcon® Glyd Ring® II, Roto Glyd Ring®, standard Glyd Ring® P, Glyd Ring® S, Glyd Ring® Hz and Glyd Ring® HT
Turcon® Glyd Ring® T
The Glyd Ring® T is the most versatile solution for bi-directional, low friction piston performance on double-acting hydraulic cylinders. It is an elastomer-energized, thermoplastic seal that is a further development of the original Glyd Ring® with a newly developed profile. The seal geometry is patented (Patent No. 41 40833). It provides improved leakage control and better resistance to extrusion. The Compact design is suitable for a wide variety of applications. Due to its unique geometry, the Glyd Ring® T has the ability to accommodate larger gaps between the piston or rod and the cylinder wall. As well, its high static loading allows it to be used in cylinders with static holding functions.
Low friction
No stick-slip
Minimal breakout force
Long service life
High wear resistance
Excellent leakage control
Stable seal geometry
Elimination of blow-by effects
Improved dynamic sealability due to unique seal profile
Improved extrusion resistance
Can accommodate larger hardware gaps
Operating Pressure: 80 MPa (11,750 psi)
Temperature: -54 to +200ºC (-65 to +392ºF)
Velocity: 15 m/sec (50 ft/sec)
Turcon® Glyd Ring®
Consisting of a Turcon® seal ring and an O-Ring, this product has a two piece design. The Glyd Ring® sealing effect is achieved through an interference fit between the seal and the hardware, radial force from the O-ring energizer and system pressure. A true slipper seal, the Glyd Ring® is energized by the O-Ring to provide the sealing force at zero or low pressure. As the pressure increases, the Glyd Ring® is energized by hydraulic pressure and is forced against the sealing surface.
Compact design
Bi-directional
Superior leakage control
Easy installation
Low friction / stiction
Long service life
Operating Pressure: 80 MPa (11,750 psi)
Temperature: -54 to +200ºC (-65 to +392ºF)
Velocity: 15 m/sec (50 ft/sec)
Frequency : to 15 Hz
Turcon® Glyd Ring® II
The Glyd Ring® II is a one-piece seal for applications requiring low friction and improved leakage control. The elastomer material is bonded directly to the seal ring to make one part. This enables increased functionality of the seal. The Glyd Ring® II provides sealability as a positive dynamic or static seal, even at low temperatures. The Glyd Ring II can be engineered to retrofit O-ring grooves; and eliminates O-ring pinching, nibbling, and spiraling. The seal can be installed into existing grooves.
Turcon® Roto Glyd Ring®
The Roto Glyd Ring® is a double-acting seal for rotary or oscillating applications. It is a low friction seal with no stick-slip, high abrasion resistance, and excellent dimensional stability. Pressure can be applied to both or to alternating sides of the seal with good results. The contact surface profile of the seal ring is specially designed for use under high pressure and at low sliding speeds. The Roto Glyd Ring® can be used for internal and external sealing applications.
Low friction
Stick-slip-free starting
Simple groove design
Stable geometry
Easy installation (symmetric design)
No back-side leakage
Operating Pressure: 30 MPa (4500 psi)
Temperature: -54 to +200ºC (-65 to +400ºF)
Velocity: up to 2 m/s (390 fpm) *depends on surface finish
---