HiMod® Glass-Filled Materials
Product Announcement from Trelleborg Sealing Solutions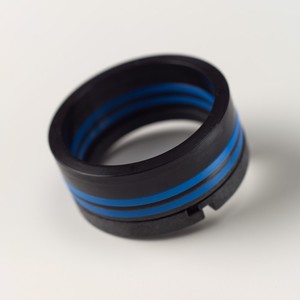 Materials:
Hydro-Components 1903 is now HM803:Reinforced Nylon 6 with 40% Glass Fill
Hydro-Components 1952 is now HM852: Nylon 6 Glass Fiber-Reinforced (40%) with PTFE
Additional materials are available for custom applications.
Wear Rings
Trelleborg Sealing Solutions Streamwood was the primary supplier of wear rings to one of the world's largest manufacturers of earth moving and heavy duty construction equipment. These applications experienced operating pressures and temperatures of 4,500 psi and 93°C, respectively. During this eighteen year partnership, there was not a single wear ring related warranty claim reported.
Our manufacturing capabilities have enabled hydraulic cylinder builders to increase their productivity and improve the quality of their product by replacing multiple, narrow-width wear rings with a single wide wear ring to fill larger gaps.
Our material is 25 percent stronger in terms of compressive strength than any of our competitors' comparable materials.
Imbeddable nylon material that is special for wear ring applications
Proprietary 40 percent glass reinforcement fibers provide maximum compressive strength
We injection mold for maximum density and compressive strength, and then precision machine to size
Quality is assured through SPC and ISO 9001 / 2000
Ultra-tight tolerance machined wall dimension available to +/- 0.0005
Helps to protect your system hardware and prevent contamination failures
Provides you with additional compressive strength that has been proven in the toughest applications
You get the highest performing material, precision machined to provide optimum performance
Consistent high performing wear rings
Improves seal life and allows higher operating pressures
Solid & Split Bearings
Higher compressive strength than bronze SAE 660
Self-lubricating
Does not contain lead
Noise Reduction
Weight savings
Imbeddable material
Tight tolerance machining
Quality is assured through SPC and ISO 9000 / 2000
Wear Pads
We were able to replace the bronze wear pads on a motor grader resulting in weight reduction and cost savings. We were successful in replacing aluminum/bronze pads on injection molding machines resulting in weight reduction, extended life and cost savings.
We were able to replace a nylatron part on the side shift mechanism of a forklift application. This resulted in reduced maintenance, maintenance cost savings and extended life by a factor of two to three.
Imbeddable nylon material that is special for wear applications
We injection mold using proprietary 40 percent glass reinforcement fibers that provide maximum compressive strength
Tight tolerance machined surfaces that are flat
Quality is assured through SPC and ISO 9000 / 2000
Many sizes already available
Internally lubricated
Helps to protect your hardware from damage due to foreign particles
Twice the strength of Cast or ExtrudedNylon materials used by machine shops
Improves the performance of your wear pad providing your customer with more up time
Consistent high performing wear pads
May eliminate or reduce set up charges
Assures smooth operation of your equipment
Hydrolock Guidelock Assemblies Metric-Piston
Hydrolock Bearing made from TSS HM803 material
Redundant Seal Surfaces
Combination of high pressure and low pressure sealing elements
High pressure seal elements are made from TSS HM803
Low pressure seal elements are made from heat stabilized glass reinforced Hytrel®
Quality is assured through SPC and ISO 9000 / 2000
Innovative Reliable Design
Prevents metal-to-metal contact between the piston and the bore
Zero Drift
Assures zero leaks at a wide range of operation conditions
Provides excellent high pressure sealing and supports the low pressure sealing elements
Softer material conforms to the rod to assure a dry rod
Consistent high performing seals
Proven for injection molding, presses, mining, industrial and off-road
Thrust Washers
We supplied thrust washers made from high temperature nylon family materials for planetary transmission applications in off-highway construction equipment. We replaced a part resulting in cost savings and increased durability.
In another instance, we replaced bronze thrust washers with parts made from HM803 on backhoe loader and agricultural tractor applications. This change resulted in weight reductions and cost savings.
Surface profiles are super flat and parallel
Imbeddable nylon material that is excellent for thrust washer applications
We injection mold using proprietary 40 percent glass reinforcement fibers that provide maximum compressive strength
Quality is assured through SPC and ISO 9000 / 2000
Complex or simple shapes
Helps to protect your hardware from damage due to foreign particles
Twice the strength of cast or extruded nylon materials used by machine shops
Consistent high performing wear pads
We work with you to design a part to optimize performance and reliability
Zero Gap Piston Seals
An operating temperature range from -40°F to + 275°F
Pressures to 5,000 PSI
Interchangeability with most piston and expander rings now used. Retrofits all C914 piston seals.
Extended seal life
Imbeddable material using HM803 or HM852 materials
Easier assembly
Port passing capabilities, including hydraulic cylinders with a series of cushioning ports
Quality is assured through SPCand ISO 9000 / 2000
---