Isolast® Fab Range™
Product Announcement from Trelleborg Sealing Solutions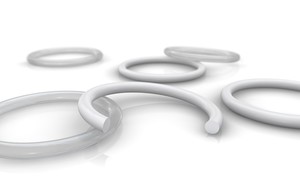 The advanced range of perfluoroelastomer materials from Trelleborg Sealing Solutions, known as Isolast® Fab Range™, has been specifically developed to meet the stringent demands of sealing within the semiconductor processing industry.
Isolast® Fab Range™ materials are available in a wide range of sealing profiles to precisely match semiconductor industry requirements, including O-Rings, gaskets, FlexiMold™, custom molded profiles and bonded components.
Common features of the Fab Range™ include: ultra-high purity, extremely low metallic cation extractables, minimum anion impurities, excellent long-term compression set properties and chemical resistance to most media. For critical applications within semiconductor processing, Isolast® Fab Range™ perfluoroelastomer sealing materials are manufactured in a clean room environment and then cleaned and packed to class 100 standards.
Grades of materials include:
Isolast® Fab Range™ J9610 provides optimum performance in wet processing environments, including wet etch, wet stripping, wet cleaning, plating, chemical mechanical planarisation (CMP) and ultra pure de-ionised water applications. Inherent capabilities enable the compound to cope with continuous operating temperatures up to +235°C / +455°F, whilst exhibiting low levels of extractable total organic carbon (TOC).
Isolast® Fab Range™ J9630 is a white compound developed for all plasma and thermal processes. Exhibiting robust long-term resistance and low weight loss, it has excellent resistance to all plasma and dry process gases in continuous service temperatures to +260°C / +500°F.
Isolast® Fab Range™ J9650 is a high temperature compound developed for high temperature wafer-processing applications, including rapid thermal processing, chemical vapour deposition (CVD), diffusion processing, dry plasma etching, dry ashing, metallization and annealing. It provides effective sealing operation up to temperatures of +320°C / +608°F.
Isolast® Fab Range™ J9670 operates at temperatures up to +315°C / +599°F and is specifically formulated for high temperature plasma applications in wafer processing. In addition it offers superior resistance to aggressive, high-temperature plasma erosion, minimal particle generation and extremely low outgassing.
Isolast® Fab Range™ J9680 is a translucent material developed to achieve the ultimate low particle generation in plasma process environments. It is suitable for selected applications in deposition, etching, ashing and stripping processes to +230°C / +446°F.
Newly developed Isolast® J9675 is engineered to offer excellent chemical resistance and minimal particulation across a wide range of semiconductor wafer processes. In particular, it gives enhanced performance in fluorine and oxygen based plasma environments. Its unique curing and filler system ensures superior long-term properties in operating temperatures up to +300°C / +572°F.
The Isolast® Fab Range™ joins the range of products supplied by Trelleborg Sealing Solutions to the semiconductor industry, including Turcon® Varilip® PDR (metal cased shaft seal), Turcon® Variseal®, Wills Rings® and standard elastomer sealing solutions.
---