Mechanical Face Seals
Product Announcement from Trelleborg Sealing Solutions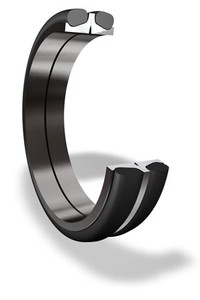 There are two different types of Mechanical Face Seals: the most common form is Type DO, which is characterized by the use of an O—Ring as the secondary sealing element.
Type DF, on the other hand, has an elastomer with a diamond-shaped cross section as a secondary sealing element instead of the O—Ring.
Both types consist of two identical metal seal rings which seal against each other on a lapped seal face.
Special designs are available onrequest. Seal types can also be divided by the use of different seal materials.
Design Features
The seals consist of two metallic seal rings. They are mounted in separate housing face to face. The elastomeric elements center the seal in the housing.

There are two tapered cones in the housing and at the O.D. of the seal. The taper increases with the depth of the bore due to the different grade of the cones. The housing shape
can normally be machined on a NC machine tool.
---