Pneumatic Seals
Product Announcement from Trelleborg Sealing Solutions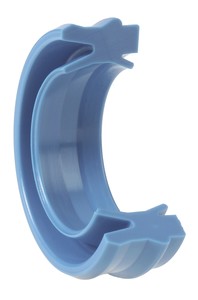 A complete double acting piston supplied to CETOP sizes. Comprised of a molded nitrile (NBR) piston head with vulcanized metal support ring. Fields of application include oily and non processed compressed air and dry oil free air.
Standard seals are frequently not appropriate for non-reciprocating and high volume applications. As your development partner, we can work with you to design, develop and supply precision elements and sealing systems in accordance with your requirements.
Cushioning seals provide the end of stroke damping in pneumatic cylinders, eliminating the need for check valves. These polyurethane, high performance seal elements are remarkably user friendly and provide automatic centering check valve function and easy, snap-in installation.
Pneumatic Glyd Ring® for Piston and Rod
Double acting Glyd Ring® available as piston or rod seal comprising a slipper seal and an energizing O-Ring combined with less installation space required. Different possible material combinations (Turcon® PTFE / Zurcon® polyethylene with NBR or FKM O-Ring) provide suitable solutions for special pneumatic applications where great importance is attached to minimum static and dynamic friction, low stick-slip effects, high speed performance or wide temperature range.
The pneumatic product range offers single and double acting seals for piston applications. Made from extremely wear resistant material (standard polyurethane, Zurcon® polyurethane, FKM), these seals fit into small housings and are easily installed. The pneumatic piston seals range is recommended for standard and pneumatic cylinders with dry air.
Pneumatic Rod Seal and Rod Seal- Scraper Combination
Pneumatic rod seals are available as lip seals and rod seal - scraper combinations for closed and open housings. The special materials (standard polyurethane, Zurcon® polyurethane, FKM) provide high abrasion resistance and low friction with optimal cost effectiveness. Recommended for applications in standard cylinders - installed with a separate scraper - or as rod seal - scraper combination for dry air.
Pneumatic Scraper/ Scraper for Guiding Units
Two versions of scrapers which snap easily into open or semi-open grooves. The special flexible lip design protects the cylinder from contamination. Where space is at a premium, the 3 mm / .120˝ long type AWBB, is recommended (guiding units only).
The DRV4-seal is a static operating seal ring developed for pneumatic applications. It is a
2-component-injection-molding part (plastics / polyurethane). DRV4-seal is conform according
ISO 16030 and achieves the following properties:
• captive on thread (triple-lug principle)
• reusable (up to 5 - 10 x)
• close by hand-torque
• no corrosion, because plastics-polyurethane-bonded
• excellent automatically mountable
• lightweight
Pneumatic Wear Ring for Pistons and Rods
A complete range of seals and bearings for pneumatics with the most common dimensions for pistons and rods. The guide rings are made of a specially developed, self lubricating plastic material to provide low friction, wear resistance, long term compression stability and excellent service life.
---