Sanitary Gaskets
Product Announcement from Trelleborg Sealing Solutions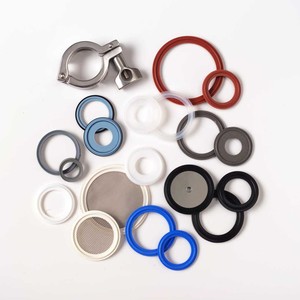 Each box is clearly labeled with product information for clean inventory control, with lot and batch numbers providing traceability.
Trelleborg Sealing Solutions sanitary gaskets meet these stringent standards for purity:
U.S. Pharmacopeia Class VI certification*
Cytotoxicity criteria*
Title 21 CFR 177.2600
USDA and 3A Sanitary standards
Current Good Manufacturing Practices (CGMP)
ASME-BPE standards
ISO 9001:2000 and QS9000:1998
European Pharmacopeia 3.1.9
Animal derived ingredient-free
All gaskets are made in the United States
*Buna does not pass U.S. Pharmacopeia Class VI certification and Cytotoxicity and is not ADI-free.
Validation Gasket
The value of a validation gasket is proven when validating sterility in a high-purityprocessing system. A standard sanitary flange utilizing the validation gasket provides the processor the option to capture real - time validation data:
•thermal mapping
•meter fluids in your processing system
•withdraw fluid samples
•facilitate validation using sporetrap challenge test strips

AVAILABLE SIZES:
1/2", 3/4", 1", 1-1/2", 2", 3", 4"
AVAILABLE PORTS:
1 to 4 ports
Special clamps are specifically designed for use with with validation gaskets.
Biological Gasket
The biological gasket enables the use of a self-containedbiological indicator in sanitary process lines. This unique gasket permits either top loading or inline positioning of a self-contained biological indicator and/or a temperature probe. The great advantage of a self-contained biological indicator over the traditional spore strip in glassine is the time saved when confirming spore kill. Results are easily obtained in only 48 hours (versus the five to seven days required with a spore strip) and without problematic laboratory transfer. You can feel secure in knowing that the biological gasket will not be lost downstream in the process. The fail-safe validation gasket holds the indicator in place for easy retrieval.

AVAILABLE SIZES:
3/4", 1", 1-1/2", 2"
AVAILABLE PORTS:
1 port in sizes 1", 1-1/2", 2" (not available in 3/4")
Orifice Plate Gaskets
Our innovative orifice plate gasket line includes a complete selection of solid 316L Stainless Steel that can be custom drilled with an eccentric or concentric bore. Tabbed orifice plates and slotted clamps are also available. Tabs help to acknowledge that an orifice place is in the line and can be laser engraved to indicate the hole diameter, gasket size or with user specified information. A major safety consideration! Orifice plates can advance your system's performance, adjust flow rates, balance backflow and equalize back pressure during SIP procedures: achievable benefits while maintaining sanitary conditions.

AVAILABLE ELASTOMERS:
NBR, EPDM, FKM Fluoroelastomer, PTFE, Silicone, Tuf-Steel®
AVAILABLE SIZES:
1/2" to 4", consult your local Trelleborg Sealing Solutions sales office for sizes over 6".
ALSO AVAILABLE:
Slotted clamps
Screen Gaskets
Fluid conditioning screen gaskets in 10 micron through four mesh are available from Trelleborg
Sealing Solutions. Screen gaskets provide prefiltration for critical membrane filters, coalescence of water vapor from process exhaust lines and particulate removal before fill and finish. Also available in a complete elastomer selection are perforated plate fluid conditioning gaskets, removable sanitary gasket holders for all discs, screen disc inserts, perforated plate disc inserts and orifice plate disc inserts.

AVAILABLE MATERIALS AND SIZES:
NBR - 1", 1-1/2", 2", 2-1/2", 3", 4"
EPDM - 1/2", 3/4", 1", 1-1/2", 2", 2-1/2", 3", 4"
FKM (Black) - 1/2", 3/4", 1", 1-1/2", 2", 2-1/2", 3", 4"
PTFE (White) - 1/2", 3/4", 1", 1-1/2", 2", 2-1/2", 3", 4"
SILICONE - 1/2", 3/4", 1", 1-1/2", 2", 2-1/2", 3", 4"
TUF-STEEL® - 1/2", 3/4", 1", 1-1/2", 2", 2-1/2", 3", 4"
Sanitary Diffuser Gaskets
Diffuser aeration systems provide increased oxygen content to high purity water systems. Diffusers can also be used to diffuse digester gases such as hydrogen sulfide and sulphur dioxide, to introduce ozone for oxidizing and destroying bacterial and organic chemical contaminants, as well as for carbon dioxide injection for carbonization and ph adjustment.
AVAILABLE MATERIALS:
EPDM, FKM Fluoroelastomer, Silicone
AVAILABLE SIZES:
1/2", 3/4", 1", 1-1/2", 2", 2-1/2", 3"
AVAILABLE MICRON:
1/2 to 2 micron
2 micron is standard stock, all other micron is custom.
Standard Gaskets
All Trelleborg Sealing Solutions standard sanitary gaskets are molded from FDA-compliant compounds. Our clamp gaskets have all passed 3A testing. Our EPDM, FKM fluoroelastomer, silicone, and PTFE clamp gaskets have all passed USP Class VI testing. All of these gaskets are molded in the United States.
AVAILABLE Materials:
NBR, EPDM, FKM Fluoroelastomer, PTFE, Platinum & peroxide-cured Silicone, Tuf-Flex®(PTFE/EPDM), Tuf-Steel®(PTFE/and Stainless
Steel)
AVAILABLE SIZES:
1/2", 3/4", 1", 1-1/2", 2", 2-1/2", 3", 4", 6", 8", 10", 12"
Trelleborg Sealing Solutions offers metric sanitary gaskets according to ISO 2852 and DIN 32676.
Controlled Compression Gaskets
The Controlled Compression Gasket (CCG) from Trelleborg Sealing Solutions cannot be over-tightened. The CCG is made of the elastomer of your choice with a ring of Ultem® vulcanized inside the gasket from the ring O.D. to the locating ring of the gasket. This non-compressible ring controls clamp compression to the correct amount, allowing the properly positioned gasket to make a perfect surface I.D. seal with the ferrules. Torque restrictions are not necessary. The CCG is also available in a tabbed gasket making it more user-friendly while isolating it from unnecessary human contact. This helps with position control and speeds up the installation process.
AVAILABLE ELASTOMERS:
EPDM, FKM Fluoroelastomer, Silicone
AVAILABLE SIZES:
1", 1-1/2", 2", 3"
CCGs meet ASME BPE specifications
Engraved Gaskets
Engraved Gaskets, Screen and Orifice Plates guarantee permanent batch and lot traceability. The engraving remains readable throughout the service life of the gasket. Compound type and/or special application markings can also be laser engraved on gaskets upon customer request.
Bonded Envelope Gaskets
Bonded Envelope gaskets are unitized gaskets - setting new standards for purity,
performance and flexibility. The bonding surface is a layer of PTFE unitized to an EPDM rubber inner core. This totally bonded construction provides a PTFE gasket with the mechanical characteristics, including memory, of an elastomer gasket. Designed to meet critical requirements in biopharmaceutical, ultra-pure water, WFI (water-for-injection) and difficult food and beverage processing, this gasket outperforms other gaskets while eliminating costly process interruptions. Achieve higher performance under SIP/CIP conditions.

AVAILABLE Materials:
Tuf-Flex®(PTFE/EPDM), Food-Flex®(PTFE/NBR)
AVAILABLE SIZES:
1/2", 3/4", 1", 1-1/2", 2", 2-1/2", 3", 4", 6"
PTFE/Stainless Steel Standard Gaskets
(PTFE and Stainless Steel) gaskets deliver leak-proof performance and are composed of a
unique 50/50 blend of non-pigmented PTFE and 316L passivated and atomized Stainless
Steel. This gasket is the choice for leak-proof, perfect surface performance and outstanding
durability in SIP (steam-in-place) and WFI (water-for-injection) applications. It is ideal for
sanitary steam pipe connections in extreme temperatures ranging from -20°F to 500°F. Its
superior strength eliminates cold flow and creep to prevent maintenance problems and system downtime.

AVAILABLE SIZES:
1/2", 3/4", 1", 1-1/2", 2", 2-1/2", 3", 4", 6", 8", 10", 12"
Note: Tuf-Flex®, Tuf-Steel® and Food-Flex® are registered trademarks of Rubber Fab Technologies. Ultem® is a trademark of SABIC Innovative Plastics.
---