Turcon® Variseal®
Product Announcement from Trelleborg Sealing Solutions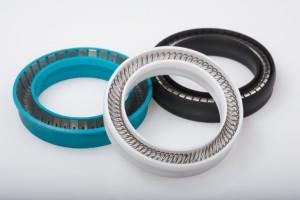 Turcon® Variseal® is available in many different varieties. Here are just a few:
Turcon® Variseal® offers major benefits.
These include:
Excellent leak tightness
High resistance to wear
No extrusion into gaps
Withstanding aggressive and abrasive process media
Very good temperature capabilities
Low friction
Compact form
Simple installation
Turcon® Variseal® is available in a range of geometries and designs that allow the optimum profile to be selected for each application. They can be produced from a wide range of Turcon® materials, our proprietary PTFE based compounds. These are specially formulated for sealing elements and offer superior characteristics specifically matched to the demands of our customers.
When required, Variseal® can also be manufactured in Zurcon®, our proprietary polyethylene-based material.
Turcon® Variseal® has three main design characteristics:
1. Application specific U-shaped seal profile
2. Spring geometry suited to the particular application
3. Proven high-performance Turcon® or Zurcon® polymers
Performance
The different types of Variseal® combined with the properties of Turcon® and Zurcon® materials offer design engineers a wide range of solutions to a large number of applications.
The most important characteristics of Variseal® are listed below:
Very low coefficient of friction
Good dynamic and static sealing
Capable of sealing at high speeds up to 15 m/s / 49 ft/sec
Almost universal chemical compatibility
Operating temperature of -253 °C up to +300 °C /-423°F to 572°F
Very good thermal resistance
Permanent elasticity unaffected by contact with chemicals
Good aging characteristics
Low compression set
Capable ofwithstanding high pressures above 200MPa /2,000 bar; 29,000 psi when using back-up rings
Very good dry-running properties
Can be installed in grooves according to MIL-G-5514 and DIN 3771
---