Turcon® Variseal® Ultra-Clean™
Product Announcement from Trelleborg Sealing Solutions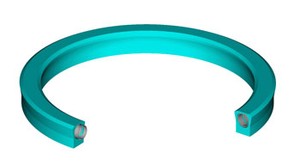 Turcon® Variseal® Ultra-Clean™ seal offers the ultimate in cleanliness, making it ideal for use in processing equipment where maintaining an ultra-clean system is a priority. In the unique design of Turcon® Variseal® Ultra-Clean™, the spring required to activate the seal is fully enclosed within a Turcon® case. This means, in semiconductor fabrication, where the minutest contamination can destroy the effectiveness of wafers, metal extractables are totally excluded.
Features of Turcon® Variseal® Ultra-Clean™:
Operates in extreme temperatures from -253°C/-423°F to 260°C/500°F
Withstands high pressures in excess of 100 bar / 1450 psi
Excellent wear and friction characteristics
Compatible with virtually all media
Suitable for piston, rod, face rotary, reciprocating and static situations
Easy retrofit into standard AS-568 O-Ring and Variseal® grooves
Click here for a brochure.
---