Wills Rings® Metal Seals
Product Announcement from Trelleborg Sealing Solutions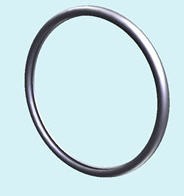 Trelleborg Sealing Solutions designs and manufactures a wide range of seals and bearings which are used in many industries and applications. Wills Rings® are metal seals which can be of two fundamental designs:
Wills Rings® are superior controlled compression type seals and are for static applications only. For best sealing results Wills Rings® should be replaced each time the groove housing is dismantled. Wills Rings® have a degree of elastic recovery after being compressed in a housing, but this is not sufficient to guarantee sealing again once the housing has been dismantled.
Wills Rings® are designed for extreme conditions which exceed the capabilities of elastomer and polymer seals.
Wills Rings® O are the original Metal O-Ring seals. Wills Rings® were developed at the Wills factory in Bridgwater, UK. The term 'Wills Rings' is often used internationally to describe metal O-Ring seals. Wills Rings® O consist of a tube formed into a circular profile. Wills Rings® C are similar, but they have an open 'C' cross section. The open slot of the Wills Rings® C faces toward the system pressure and allows the seal to be pressure-activated.
Typical Applications:
Nuclear power plant
Furnaces
Offshore, Oil & Gas and marine
Cryogenics
Extreme vacuum systems, Semiconductor
Fire safe valves
Plastic processing
Automotive
The design of Wills Rings® can be modified to suit the specific requirements of a system. These different designsoffer a variety of sealing performances.
Advantages
Temperature range from cryogenic to +850°C/+1550°F
Pressure range from ultra high vacuum to 1,000 MPa/145,000 psi
Compatible with a large range of media
Corrosion resistant and radiation tolerant
Simple and reliable sealing
No out-gassing
Wide range of sizes
---