Zurcon® U-Cup RU9
Product Announcement from Trelleborg Sealing Solutions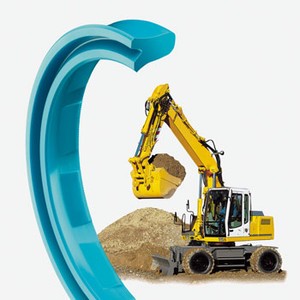 Due to its special design, behind the dynamic seal lip, the Zurcon® U-Cup RU9 with its structure of slide segments interspersed by back-pumping channels features excellent back-pumping ability across the entire pressure range. The dynamic seal slide segments also have a micro-structure with excellent tribological and sealing characteristics. As well as increasing the sealing ability of the U-Cup RU9, this also ensures a constant lubrication film underneath the seal sliding surface, reducing breakaway force even after prolonged periods of rest and reduces dynamic friction force.
Slide segments
· Patented micro-structuring of the slide segments
· Back-pumping channels
· Cut seal lip
The Zurcon® U-Cup RU9 also generates less heat than conventional seals. The combination of the FEM seal geometry with the highly wear-resistant Zurcon® polyurethane sealing material also provides increased protection against extrusion.
Product features
Grooves according to DIN/ISO 5597
Can be installed in closed grooves
Hydrodynamic back-pumping across the entire operating range is possible due to the patented micro-structuring of the seal sliding surface. This gives rise to other benefits provided by the Zurcon® U-Cup RU9, including:
Reduced friction
Less heat generation
High extrusion resistance
Outstanding dynamic and static sealing performance due to trimmt seal lip
Smooth seal lip ensures optimum sealing characteristics
The high static sealing performance is achieved by:
Interference fit at the external diameter
The special shape of the trimmt seal lip
The special Zurcon® Z20/Z22 polyurethane ensures:
High wear resistance
Lower compression set
Wider temperature range
Friction
The friction force of U-cups dramatically increases between 2.5 and 10 MPa. The Zurcon® U-Cup RU9 has a unique feature. As the system pressure increases, the contact surface between the U-cup and the piston rod increases. Once a specific system pressure is reached, the seal deforms to such an extent that its entire friction-generating inside surface gets in contact with the piston rod. Due to the special design of Zurcon® U-Cup RU9 there is improved pressure distribution on the rod. The resulting tribological benefits restrict the increase in friction. When we compare the friction values of conventional U-cups with those of the Zurcon® U-Cup RU9 the results are self-evident.
The New Profile
The innovative profile and surface design have several advantages: friction forces are significantly lower than on conventional U-cups. The back-pumping ability of the seal is ensured across the entire field of application.
---