Product Announcement from TriStar Plastics Corp.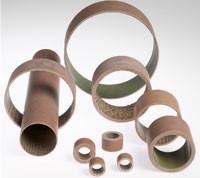 Bearings give right-of-way equipment durability and stamina under rugged conditions
The US boasts over 70,000 miles of high-density railroad track, each mile needing constant maintenance and upkeep to remove overgrown vegetation. To keep up with this massive job and promote safe rail passage, the industry depends on an arsenal of rugged, right-of-way tractors, mowers and cutters. And CJ Composite Bearings give the equipment exceptional durability and stamina to clear the rails, mile after track mile.
Impervious to corrosion, weather and temperature extremes - and with a load capacity similar to bronze and steel - self-lubricating CJ Composite Bearings are ideal for the oscillating, linear and rotary applications inherent to land-clearing equipment.
Rail maintenance meets high-tech bearing technology
The leading manufacturer of right-of-way machines contacted TriStar engineering team to discuss a bearing replacement option for their tractor boom arms, mower heads and hedge trimmers. They described the arduous conditions of their rail application: clearing dirt clods and overhanging branches and brush over steep hillside s in wet, muddy terrain, in all seasons, in all temperatures. They explained how their tractor booms handle excessive, cantilevered loads as they reach out 20' beyond the track. Clearly, only a resilient, heavy-duty bearing would do.
Our design experts recommended CJ Composite Bearings, a powerhouse in bearing technology. CJ's have a proven record in demanding conditions, including agriculture and construction. Self-lubricating and maintenance-free, CJs also run well against steel, and can withstand even moderate shaft misalignment that may occur during operation in uneven terrain.
Since making the switch, our client cites that CJ Composite Bearings have actually extended the operating life of their machinery, and has saved them the expense of manual greasing and regular maintenance.
Designers choose CJ bearings for demanding applications:
- Self-lubricating design
- High-load capacity
- Chemical and corrosion resistant
- Long wearing
- Reduced weight
- Temperature stable (from cryogenic to 350° F)
Do you have an application challenge for TriStar? Our team can help you explore our inventory of self-lubricating bearings to find just the right match for your application. Reach out to our bearing experts to experience the TriStar Advantage. Or join the conversation on our Tech Talk Bearing Blog.
You have successfully added from to your part list.

Play Self-Lubricating CJ Composite Bearings Video
---