40 to 150W w/PFC Ready To Ship
Product Announcement from Triad Magnetics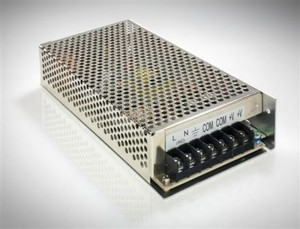 For seventy years, Triad has been a leader in developing and improving power magnetics. Take our new AWSP series power supplies for instance. Here we've developed a low cost power supply family that is sound, solid and ever so reliable. Care to see for yourself? We're happy to ship you one to evaluate and see how it compares to what you're currently using. We think you'll find our products and our genial, results oriented corporate culture worth being acquainted with.
Input Characteristics:
Input Voltage: 85-264Vac
Input Frequency Range: 47-63Hz
Power Factor: >0.92 (100W and 150W models)
Leakage Current: <3.5mA/240Vac
Output Characteristics:
Adjustable Output Range: ±10%
Load Regulation: ±1.0%
Line Regulation: ±0.5%
Temperature Drift: <0.03%/°C (10-50°C)
Start-up Time: 300ms max @ 230VAc
Hold-up Time: 30ms min, 100% Load@230Vac
Over Current: At Load>120% 115/230Vac, Auto recovery
Over Voltage: Zener clamping at Vo>110%, Non auto recovery
Short Circuit: Short circuit protection available. Avoid short circuit >30 sec.
General Specifications:
Cooling: Natural Convection
Isolation Resistance: I/P-O/P, I/P-FG, O/P-FG: 500VDC/100Mohms
Dielectric Strength: I/P-O/P: 3KVac; I/P-FG: 2.5KVac; O/P-FG: 0.5KVac
Warranty: 2 years
Environmental Specifications:
Operating Temperature: -10° to +60°C
Operating Humidity: 20 to 90% RH, non-condensing
Storage Temperature: -25 to 75°C
Storage Humidity: 10 to 95% RH, non-condensing
Vibration: 10-55Hz, 2G 1min/cycle, period of 60min, each X, Y & Z axis
EMC & Safety Specifications:
EMC Emissions: Conforms to EN55022,VCCI,CISPR22 Class B (Conducted & Radiated); IEC-61000-4-2, 61000-4-4, 61000-4-5, 61000-4-11
ESD Susceptibility: EN61000-4-2 (15kV/8kV)
Radiated Susceptibility: EN61000-4-3 (3Vm?¹)
Fast Burst: EN61000-4-4 (2kV)
Surge: EN61000-4-5 (1kV/2kV)
Safety Approval: UL 60950 (UL File No: E204980) and TUV EN60950 (TUV No: 50058679)
(select part number to download datasheet)
AWSP40-5 5VDC @ 7.6A
AWSP40-12 12VDC @ 3.3A
AWSP40-24 24VDC @ 1.7A
AWSP60-5 5VDC @ 12.0A
AWSP60-12 12VDC @ 5.0A
AWSP60-24 24VDC @ 2.5A
AWSP100-5 5VDC @ 20.0A
AWSP100-12 12VDC @ 8.4A
AWSP100-24 24VDC @ 4.2A
AWSP150-5 5VDC @ 30.0A
AWSP150-12 12VDC @ 12.5A
AWSP150-24 24VDC @ 6.3A
---