Product Announcement from Triad Magnetics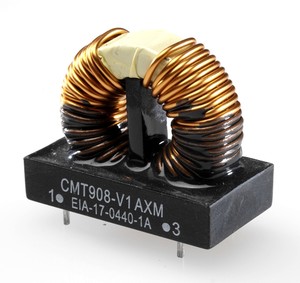 Triad Switch Mode High Frequency Magnetics: CME and CMT Series 20K-200kHz Common Mode Inductors
Offering superior dependability and reliability, Triad's common Mode EMI suppression inductors are used in various types of power supplies to eliminate noise common to all lines. The CME and CMT Series Inductors also provide effective differential mode filtering. The CME Series features an inductance range of 4.40 to 176.1 mH, and the CMT Series features an inductance range of 2.0 to 16.0 mH. Meeting VDE, IEC, UL and CSA requirements, they minimize the AC line transmitted interference often created by high frequency switching power supplies. Normally placed close to the input source, these compact inductors are constructed with UL rated 130-degree material. Design Kits are available for order.
Triad also manufactures Common Mode Choke Coils. The UT and ET Series coils are useful in a wide range of applications for the prevention of EMI and RFI from power supply lines and for prevention of malfunctioning of various electronic equipment. Features include low leakage flux, high self-resonant frequency, high impedance at applicable frequency and low stray capacitance in section winding. The UT Series features an inductance range of 0.45 to 9.0 mH; the ET Series features an inductance range of 4.70 to 120 mH.
You have successfully added from to your part list.
---