Energy-Saving, Row-Based AC Unit
Product Announcement from Tripp Lite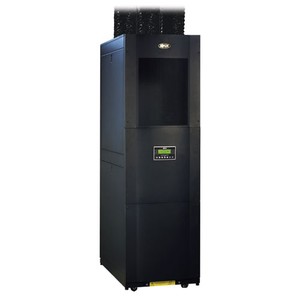 The harder your data center works, the more it heats up. As temperature rises, sensitive equipment under performs, leading to fatal downtime and errors in mission-critical applications. Tripp Lite's SRCOOL33K row-based air conditioning unit features cutting-edge components that limit inrush current and enable precision cooling adjustments to minimize power consumption, maximize cooling and improve your application efficiency.
Key Features:
33,000 BTU (9.7kW) of cooling power with 1/3 less power consumption
Variable-speed, DC-inverter-driven compressor and microprocessor-controlled electronic expansion valve (EEV) enable precision cooling adjustments--no more wasteful, noisy cycling between off and full blast
Soft-start feature limits inrush current to prevent introduction of line noise, voltage disruptions and potential circuit overloads
Self-contained, zero-maintenance unit re-humidifies condensate and expels it through the exhaust air stream -- no floor drain, water collection tank, external condenser, refrigerant piping, duct work or plumbing required
Includes a standard heavy-duty L6-30P plug for easy installation -- no electrician required
200-240V AC Input, 50/60 Hz frequency compatibility
By delivering 33,000 BTU (9.5kW) of cooling power in the cold aisle, the Tripp Lite's SRCOOL33K promotes temperature uniformity from 1U to 42U, while an advanced airflow path optimizes efficiency and cooling predictability.
For complete product specs, price and where to purchase, visit Tripp Lite's website or Request a Quote above for more info.
You have successfully added from to your part list.
---